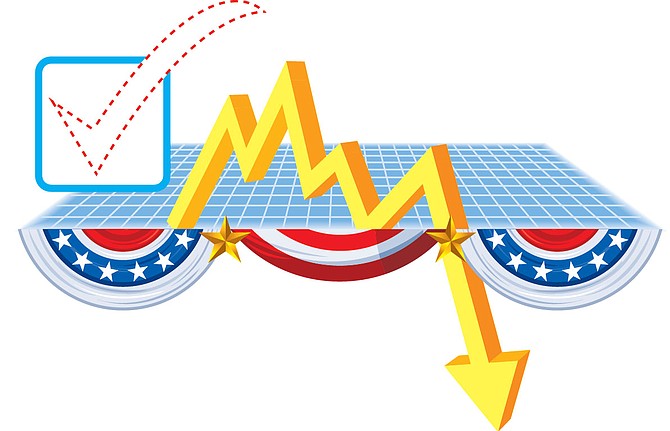 As the state and county start to feel the impacts from last November's General Election, it may be a good idea to reflect that those changes were brought about by the lowest voter turnout in more than 20 years.
Out of a state population of more than 5.3 million, only 2.1 million ballots were cast in November, representing less than 40 percent of the population.
"I'm not really sure why there is the low turnout," says Sen. Jim Honeyford, who just completed 20 years as a state lawmaker.
"We've made it so easy to register and vote," adds Honeyford (R-Sunnyside). "All they have to do is get a driver's license…and they don't even have to go to the polls…they can just mail their ballots in."
The low voter participation, he surmises, may be due to lack of confidence in government, or the feeling their vote doesn't make a difference. "People need to feel that their government is listening to them," Honeyford said.
Another possibility, he wonders, is if perhaps efforts to simplify voting have backfired.
"Myself, I liked to go to the polling place…now it's all in your home," Honeyford observed. "At the polling place you got to see your neighbors…you felt like you were doing something."
He continued, "I'm beginning to think we've made it too easy to vote. People need to feel that their vote is important. Maybe that's what is lacking."
Sunnyside resident Betty Carlyle said she didn't like voting by mail when Washington state decided to switch from its former voting system.
"I liked going to the polls to see people and to get my 'I voted' sticker," she said.
However, said Carlyle, voting is an honor and she takes it seriously.
"It is an honor to live in a country where one can vote…I feel it is especially important that women vote because of those who fought for women's right to vote," she said.
She said it is also a way for citizens to show their patriotism, honoring those who fought for the freedoms afforded to us.
"I think of those who fought in the Civil War and all the wars since," said Carlyle. She said without the sacrifice of American soldiers, many of the rights U.S. citizens experience might not be afforded them.
Carlyle believes younger people often don't feel the need to vote.
"They don't understand sacrifices, history or politics…some don't even know who the president or governor is," she said.
Gene Bliesner chairs the Sunnyside Republican Club and he agrees there's no easy answer for last November's low voter turnout.
One possibility he suggests is that perhaps fewer Democrats turned out locally for the General Election because both U.S. Congressional candidates were from the Republican party. "Maybe they decided to pass it up and not vote," Bliesner said.
He also points out that so called "off-year" elections not involving a presidential race, like the 2014 General Election, often reflect lower voter turnout.
According to the latest data, the younger a person is, the less likely they are to vote.
Statewide statistics show that less than 13 percent of the population between the ages of 18 and 24 years old voted in the last election, casting only 84,462 votes between them.
In contrast, 673,105 ballots were cast in Washington state last fall by voters 65 and older, who turned out in droves.
Marissa Boob, 19, of Prosser said she thought she registered, but never received a ballot. She noted that she felt it is important for people to vote "because everybody has a say."
While she prefers the idea of mail-in ballots to requiring voters to travel to polls, she admits that getting her generation to vote can be an uphill battle.
"People don't vote because they don't think it's important," she said. "They don't have the time to sit down for five minutes to fill out a ballot."
Another voter between the ages of 18 and 24, Jonathan Paxton, said he believes his vote counts.
However, he feels that many younger voters aren't concerned with politics "…and they don't have enough information to understand what they are voting for."
Paxton said social media, in his opinion, provides the wrong perception regarding matters of the world "…so that many younger voters don't know what they are voting for or what the pros and cons are."
Jeremy Garza, 21, agrees that many young voters don't care about politics "…especially something like the mid-term elections, which is never really advertised or talked about."
It is his belief that elections should be designated a national holiday "…or plastered everywhere like the Super Bowl.
"You might get a bigger turnout."
While campaigns are advertised on television and radio, Garza said younger voters quickly change the channel or radio station when a campaign advertisement comes on.
"What they see is some professional-looking person talking to them about stuff that doesn't directly affect them," said Garza.
He said many of his generation don't believe their vote matters because of the electoral college in presidential elections.
"My generation is very misinformed on how these things work and why they should care; and it's not entirely their own fault when their parents are the exact same way," Garza said.
He said too many young voters are more interested in pop culture than politics. But if the icons of the day were to care more about politics, he said it might change the way the younger generation thinks.
Yakima County had the lowest turnout in the state this past election, with only 47.51 percent of registered voters casting a ballot, compared to a statewide total of 54.16 percent of registered voters.
Statewide, nearly 73 percent of the population is registered to vote, down from more than 90 percent in 1952.
Simply being registered doesn't guarantee a person will vote, though. A higher percentage of women are registered to vote in almost every age group, but men still cast more actual votes than women.
In addition, turnout among ethnicities can be wildly different. A Yakima County survey of voters in the last election found that people with non-Hispanic surnames were more than twice as likely to vote as people whose surname is Hispanic.
Bengie Aguilar of Sunnyside, who has worked to register voters for the past six or seven years, said that education may be the key to solving the problem.
She said a lot of people don't vote because they don't believe their votes count, despite recent elections in Sunnyside that have been decided by a single vote. She said the current generation tends to "blow off" the whole voting process.
Aguilar suggests introducing the concept of voting to children early and helping them develop a passion for being part of the system. She's also encouraged people to apply for local board positions and seek city council seats. "This is a long term thing," she said.
Aguilar said Washington's mail-in ballot is also difficult for some people. She's gone to people's homes to help explain the ballot and how to fill it out.