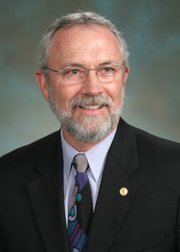 Newhouse named to house subcommittees
WASHINGTON, D.C. – Last Thursday, Rep. Dan Newhouse (R-WA) was assigned to serve on the subcommittee on federal lands and the subcommittee on water, power and oceans of the House Natural Resources Committee.
"Every Washingtonian knows increasing water storage and accountable public land management are critical issues for farmers, businesses and landowners in our region," said Newhouse.
"I am committed to advocating for an active federal role in implementing integrated water management plans in the Columbia Basin and Yakima Basin, as well as safeguarding our dams so that they continue to generate clean, renewable hydroelectricity."
HERSHEY, PA. – Bus rides aren't just for kids and commuters.
They're for congressmen, too.
Congressmen like Sunnyside's Dan Newhouse, who joined his colleagues on a three-hour bus ride to Hershey, Pa. for a retreat last week.
It's not just any getaway, though, as it marks the first time in 10 years Republicans from the House and Senate assembled together for a retreat.
"With majorities in both chambers, we're mapping out what we want to do," Newhouse told the Daily Sun News.
"It will be interesting to compare what's important to both sides and come together," he said of the two-day retreat at Hershey Lodge.
The retreat caps a hectic first couple of weeks in D.C. for Newhouse.
He was appointed to a number of committees, including being named vice chair of the energy subcommittee for the House committee on Science, Space and Technology.
A focal point of the energy subcommittee includes jurisdiction over matters relating to non-defense federal research and development programs, such as Hanford.
Of even more interest closer to home here in Sunnyside, Newhouse also serves on the House's ag and natural resources committee.
Immigration is a key ag concern for Newhouse, whose family farms 600 acres near Sunnyside.
It's a key issue for the Lower Valley, as well, with its large Hispanic population and reliance on farming.
"With immigration, the good thing is it's on everybody's mind, people are talking about this being a critical issue for Congress to tackle," said Newhouse. "There's a significant opportunity to get something done."
Last week he voted for a measure to undo President Obama's "deferred action," enacted through executive order, which potentially would have allowed nearly five million undocumented immigrants to stay in this country.
Just before taking office, Newhouse told the Daily Sun News that "fixing immigration" was one of his top goals.
At that time he expressed a desire for a "comprehensive solution" rather than Obama's executive action.
Towards that solution, Newhouse said during a break at the Hershey retreat he is "…looking for other people in Congress to team up with on immigration reform."
Besides countering Obama's executive order, Newhouse co-sponsored a bill designed to repeal the president's Affordable Care Act.
"There are a number of things Republicans are talking about,"
Newhouse said of options to so-called "Obamacare."
Those include returning to a more market-based approach to health insurance and giving consumers more say in choosing their health care providers.
He also co-sponsored a bill that would scrap the current tax code in favor of a system he says would be "fairer and simpler."
As for his hometown of Sunnyside, Newhouse says his message to residents here is that he is listening.
"There are a lot of challenges," he said. "The citizens of the Lower Valley have a lot of the same concerns as the rest of the Fourth District."
Besides his office in D.C. and congressional website at newhouse.house.gov, there is also an office in Yakima at 402 E. Yakima Ave., Suite #445.
Newhouse's Yakima office can be reached by phone at 509-452-3243 or fax at 509-452-3438.