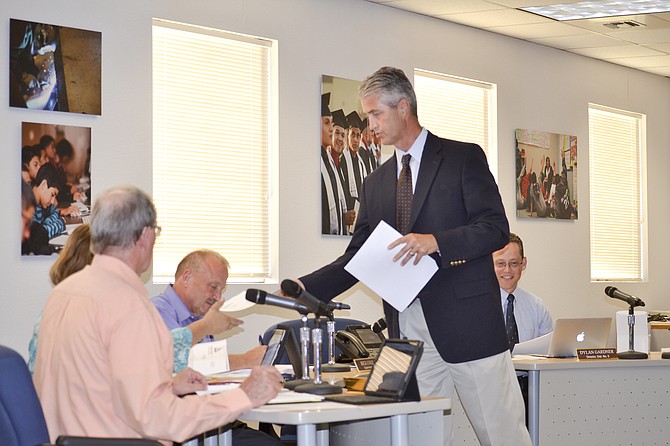 Ground breaking could start soon on construction of a new replacement building for Sunnyside's Washington Elementary School.
That's according to Gary Wetch, president of Yakima-based Loofburrow Wetch Architects.
Last night, Monday, he presented to the Sunnyside School Board construction bids submitted for the new building.
The board followed Wetch's recommendations and hired Chervenell Construction Company of Kennewick.
Including tax, the project pencils out at a total cost of $18.7 million. That's on the high side of the $17 to $19 million range originally envisioned for construction.
Subcontracting bids came in higher than anticipated, Wetch explained. According to Chervenell, mechanical, electrical and plumbing were all higher than expected.
"The construction market is at the mercy of the subcontracting industry with all the projects currently under construction," Wetch stated.
Even so, he adds Washington Elementary's cost per square foot is reasonable compared to other recent school construction projects.
He said school construction projects in the Tri-Cities last year averaged $252 per square foot. Washington Elementary will come in at about $220 per square foot.
Also, most of the price tag for Washington Elementary – about $12.3 million – will be picked up by state funds.
Last night's action also included the approval of two addendums with Chervenell. They include the expenditure of $109,000 to relocate two on-site portables – Wetch says the cost is typically $100,000 per portable, so Chervenell is offering a price break – and a divider curtain for the new gymnasium.
The divider is expected to cost $13,300 and will offer the district an option to use the gym as two separate spaces for teaching or community use.
Both of the addendums are included in the overall cost for the project.
Chervenell, which Wetch said provided the lowest bid out of the four submitted, will be notified of the board's decision.
Wetch says the next step is to have state officials grant formal approval to release construction funds.
"We could be breaking ground in a week or less," he told the board.