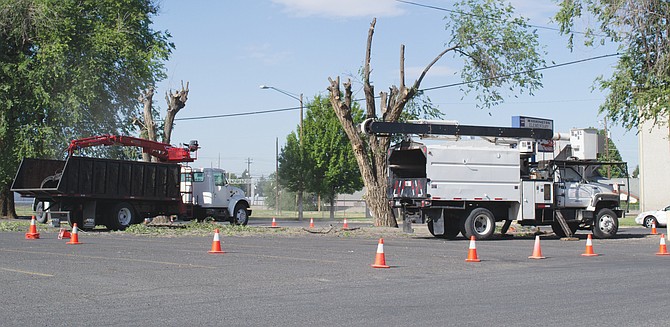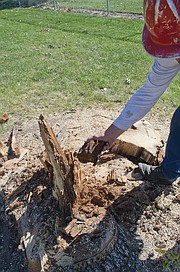 A number of large trees on the grounds of the Sunnyside School District's administration building at the corner of South Sixth Street and East Lincoln Avenue are being removed because they are dying or diseased and pose a direct threat to the community.
"A very large branch fell, without a windstorm, a couple of weeks ago," said district spokesman Curtis Campbell. "It could have hit a person or car and would have caused a lot of damage."
The district called an arborist to check the trees and discovered that about 20 of the trees needed to be removed. Four more will be pruned and might be saved.
"They are dying from the inside out," said Campbell.
He said the trees are anywhere from 30 to 60 years old and most of them are locust trees along with some maple, elm and pine. Despite green branches, many of the trees have black rot infections.
"A few years ago the district tried planting new trees next to the old ones, but the new ones could not get enough nutrients," said Campbell. "We have to take out the old ones, then we will plant more."
Willy Finn, owner of American Tree Trimmers in Prosser, has his crew working on the trees this week. He said many of the problems have been caused by topping the trees instead of pruning them properly.
"Topping is very common around here, but it allows the suckers to grow out," he said. "This isn't good for the health of the tree."
He pointed to a large American elm at the southwest corner of the building, noting that it has been topped in the past.
"It's a robust tree," he said. "We hope pruning it will save it. But most of these trees are dust inside already."