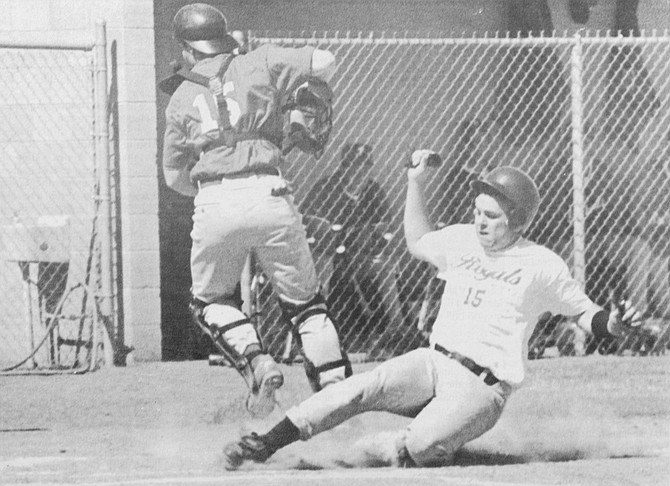 Over the Shoulder
A look back in time from the files of the Sunnyside Daily Sun News and Sunnyside Sun
110 YEARS AGO…(1905)
George H. Irish, president of Sunnyside's Memorial Association, was asking all old soldiers, as well as sons and daughters of veterans to meet on July 4 at the grove of William Stobie. Irish was encouraging all who planned to attend the gathering to bring with them well-filled flower baskets. A noon luncheon, said Irish, was to follow.
Matt Albert, at his farm south of Snipes Mountain just outside Sunnyside, was experimenting with growing peanuts. The eighth of an acre of land he planted was, to date, producing lush plants.
100 YEARS AGO…(1915)
Mr. and Mrs. C.V. Zook returned home to Sunnyside from their honeymoon trip to Glacier Park in Montana. The couple was busy setting up their new home on Mayhew Street.
The W.C. Holland family was extending an invitation to all East Sunnyside residents to attend a Fourth of July celebration on their spacious lawns. All that was required was to bring a well filled dinner basket.
80 YEARS AGO…(1935)
Elected president of Sunnyside's American Legion Auxiliary was Mrs. O.C. Christopherson.
One of the "four horsemen," who for more than two decades had been credited by most local residents with being the key players in Sunnyside securing a state championship in football some 25 years earlier, was visiting in Sunnyside. Back in town holding services at the Brethren Church was Alva McClain, the dean of Ashland Theological Seminary. Plans were underway to reunite McClain with the other members of the four horsemen…Guy Lichty, Roscoe Sheller and Real Lichty.
70 YEARS AGO…(1945)
A United Press dispatch carried the story of Lt. Charles Kirkham, a Sunnyside native, attempting a daring rescue just off the coast of Japan. Flying in formation back to his base from a successful bombing raid over Japan, Kirkham noticed one of the U.S. pilots had to ditch his plane. However, the pilot was able to drop his rubber boat into the ocean before abandoning the airplane. Kirkham remained on the scene to radio the location of the downed pilot back to a rescue crew. When Kirkham's plane began to grow low on fuel he sent the rest of his crew back to base, but not before parachuting out of the plane to help the downed airman. The two pilots ended up being officially listed as missing, though, when the rescue planes failed to find their whereabouts.
60 YEARS AGO…(1955)
Rear Admiral Albert Bledsoe, commandant of the Thirteenth Naval Division, was the guest speaker at a Sunnyside Rotary Club meeting. The two-star admiral, speaking about the atomic age, noted that a chunk of uranium the size of a golf ball was capable of propelling a ship around the globe four times.
Dubbed as professional safecrackers by Deputy Sheriff Jack Runyon, thieves drilled holes in the roof of Mabton's Silver Dollar tavern and lowered themselves into the bar. Runyon said the thieves chiseled the safe from its concrete confines before walking across the street and grabbing a hand truck, which they used to remove the safe from the tavern and haul it away. Runyon reported the thieves made off with a haul of nearly $3,000.
50 YEARS AGO…(1965)
Sunnyside's annual pioneer picnic drew about 300 people to Central Park. During the business portion of the gathering, J.W. Hans was elected president of the pioneer association. He succeeded Ernest Hager.
Cutting a hole through the roof to gain access, burglars pried open a safe in the office of Totem Sales in Sunnyside, making off with about $1,100 in cash. The thieves did not touch the diamonds that had been left in the safe.
40 YEARS AGO…(1975)
Sunnyside FFA members Lenny Van Pelt and Chris Shearer won first-place honors in the record keeping and FFA creed competitions, respectively, at the Washington State FFA Convention.
Sunnyside Schools Superintendent Ralph Pistorese announced a deal had been struck with Yakima contractor Ken Grow to remove the burned out Chief Kamiakin School structure. The school had been razed by fire in February 1974.
30 YEARS AGO…(1985)
Leticia Juarez was crowned Miss Mabton to kick off Asparagus Days in that community.
Joe Dauphin was the top fundraiser in Sunnyside's annual March of Dimes Walk America event. Dauphin collected $175 in donations.
20 YEARS AGO…(1995)
Myrtle Hill Arends, trekking from Orange, Calif. to Sunnyside, was presented the award for having travelled the furthest to the annual pioneer picnic.
Eight young ladies announced their candidacy for the title of Miss Sunnyside. They included Cruz Gonzalez, Brandi Honey, Tarah Lyczewski, Teresa Canales, Nicole Escobar, Eva Duran, Marci Luna and Tarel Carrera.
10 YEARS AGO…(2005)
Jeff Matson purchased the D.K. Bain real estate office on South Seventh Street from Kenny and Joci Nelson. Matson, a local accountant, began moving his Sunnyside business operations from the office he had been renting on Eastway Drive.
Two men were killed and three others seriously injured in a shootout at the Parkland Homes mobile home park in Sunnyside. The initial investigation did not turn up a reason on why the shootings had occurred.