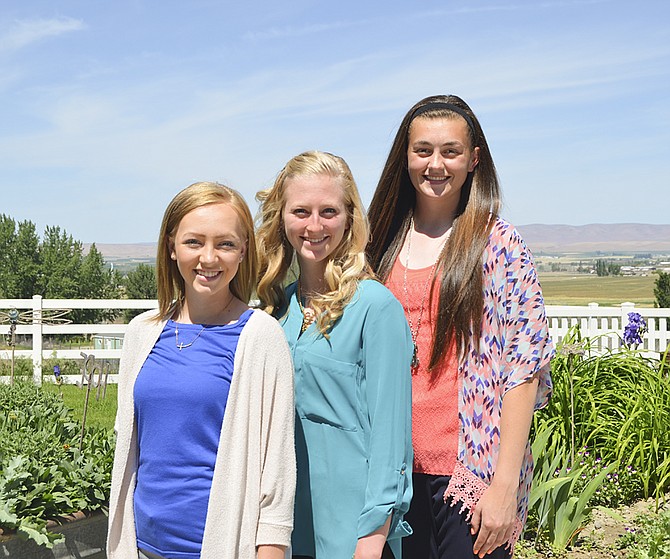 Three friends and classmates from Sunnyside Christian High School will be competing for the 2015-16 Yakima Valley Dairy Ambassador title on Thursday, May 21, at the 58th annual Yakima Valley Dairy Ambassador Banquet.
The titlist contenders are Natalie Bangs, Katelyn Banks and Jessica Stoutjesdyk.
All three are the daughters of Lower Valley dairy farmers.
Natalie Bangs is the daughter of Tammy and Steve Bangs. She has four siblings and wants to serve as dairy ambassador to represent the dairy industry.
Her father owns Southside Dairy near Toppenish.
Bangs said the dairy ambassador serves as a public speaker at fairs and in classrooms, talking to others about the dairy industry. She said the ambassador serves a special purpose, helping others understand where milk comes from.
"The ambassador talks to people who may not understand the industry," said the Yakima Valley Dairy Ambassador hopeful.
She said she wants to help eliminate misconceptions about the dairy industry.
Katelyn Banks is one of three daughters born to John and Shellie Banks.
Her father owns Riverview Ranch near Mabton.
She said, "I feel like there is a lot of negative information about dairies."
Because of this, Banks wants to serve as the dairy ambassador to provide a positive image of the industry.
She said she also believes the ambassador fills an important role, representing the Washington state dairy industry at WIAA activities, as well as in a number of community service projects.
"I want to play a positive role," said Banks.
If she is selected to represent the Yakima Valley dairy industry, she said she hopes to serve as a role model to younger girls.
Banks wants to educate others about the benefits of dairy products, as well.
Jessica Stoutjesdyk is the daughter of Jim and Darcey Stoutjesdyk, owners of Tuxedo Dairy near Zillah.
She has seven siblings and says her family's heritage in the dairy industry dates back several generations, beginning in Holland.
Stoutjesdyk said serving as dairy ambassador will provide her with experiences that will serve her throughout her life, including etiquette and public speaking skills. She said she wants to become a surgeon.
"The speaking experience will help me to be well-spoken," said Stoutjesdyk.
Since she was a youngster, she said, she has wanted to become a dairy ambassador. She said she remembers seeing a dairy princess, and believed that individual to be poised.
"The dairy ambassador serves as an icon of the industry," Stoutjesdyk said, noting little girls often look up to the ambassador.
"The dairy ambassador answers questions about the dairy industry, promoting it…she has to know what she's talking about," said Stoutjesdyk.
The Yakima Valley Dairy Ambassador Banquet will take place at the Walter Clore Wine and Culinary Center in Prosser on Thursday, May 21, with a 6:30 p.m. social hour. Dinner will be served at 7 p.m.
Tickets are available at the cost of $30 by contacting Jessica Newhouse at 840-1121.