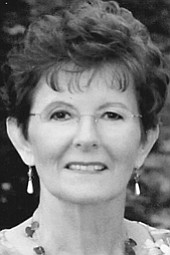 Ann Louise Harris, 75, devoted and beloved wife, mother and grandmother, went to be with her Lord and Savior with her family by her side, Wednesday, May 20, 2015, at the Cottage In The Meadow in Yakima.
She was born April 7, 1940 to Dale and Doris Hinrichsen in Yakima.
She was raised in Mabton, where she attended grade school and graduated from Mabton High School.
She was working at the Mabton Theater, where she met the love of her life, Jim Harris. They married on June 20, 1958. They continued to make their home in Mabton, where they raised a family.
She had a passion for cooking, sewing, entertaining and gardening. Her home and yard reflected that! She looked forward to family trips to Twin Lakes, where they spent many hours out on the lake and around the campfire.
She was very involved in the Mabton Grace Brethren Church.
When retirement came, Jim and Ann decided to leave their Mabton home and build a new house in Grandview. They became involved with the Grandview Church of the Nazarene and continued to make new friends and enjoy their grandkids and family.
She is survived by her husband, Jim Harris of Grandview; two daughters, Debbie (Ron) Dion of Grandview and Janie (Ken) Speaks of Federal Way; a son, Larry Harris of Walla Walla; six grandchildren, Adam (Heather) Dion of Grandview, Tessa Cockrum of Federal Way, Monic' (Aaron) Bowens of Colorado Springs, Drew Speaks of Federal Way and Sydney and Zachary Harris of Walla Walla. She is also survived by her brother, Bill (Anita) Hinrichsen of Ceres, Calif.; and many nieces, nephews, cousins and friends.
She was a wonderful wife, mother and grandma and will be greatly missed by all of those who have had the great fortune to know her.
She was preceded in death by her parents; grandparents; and granddaughter, Emilee Harris.
Viewing and visitation will be held on Wednesday, May 27, 2015, from 6 to 8 p.m. at Smith Funeral Home in Sunnyside. Family burial will be held on Thursday, May 28, 2015, at 10 a.m. at Lower Valley Memorial Gardens, in Sunnyside, with a celebration of life service to follow at 11 a.m. at the Smith Funeral Home Chapel, Sunnyside.
Those wishing to honor Ann's memory may contribute to Cottage In The Meadow.
Those wishing to sign Ann's online memorial book may do so at www.funeralhomesmith.com
Smith Funeral Homes Ltd. and Crematory is in charge of arrangements.
More like this story