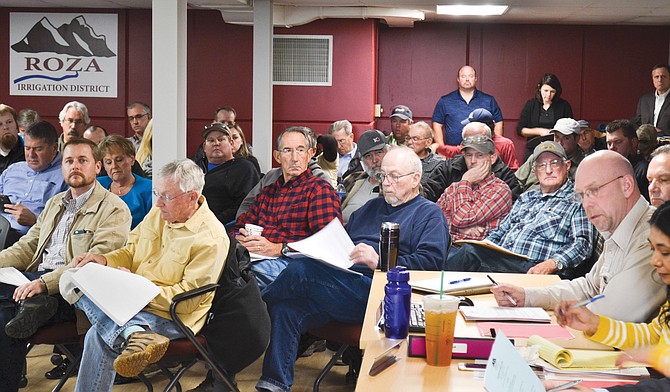 Workshops set for pump plan
The federal Bureau of Reclamation is planning two workshops to gather public comment on Roza's Kachess emergency temporary floating pumping plant project. They are planned for Tuesday and Wednesday, Dec. 7-8.
Both workshops will be from 4 to 7 p.m.
The first will be at the Hal Holmes Center in Ellensburg at 209 N. Ruby St.
The Dec. 8 workshop will be at the U.S. Forest Service's Cle Elum Ranger District office at 803 W. Second St.
Written comments on the plan can also be submitted through Friday, Dec. 18. Mail them to Candace McKinley, Reclamation's environmental program manager, at 1917 Marsh Rd., Yakima, WA 98901 or e-mail to roza@usbr.gov.
SUNNYSIDE — Though the decision was made a month ago, farmers in the Roza Irrigation District are still divided on a plan to construct a $58 million emergency temporary floating pump plant at Lake Kachess.
Roza's board of directors decided in October to move forward with the project and, to date, have spent nearly $1 million on design and permitting efforts.
The board met this past Tuesday and was scheduled to take action on increasing assessment rates by $85 per acre to pay for the project.
Roza's board is pursuing the project because as a junior water right holder it received less than half of its irrigation allotment during this year's drought. Another potential drought is predicted for next year.
That action has been delayed until a special meeting planned for 10 a.m. on Monday, Nov. 30, at the Roza-Sunnyside lab at 1105 Yakima Valley Hwy.
The rate hike now on the table, plus another $5 proposed per acre increase, means Roza users would pay $223 per acre for irrigation water in 2016.
And that cost had many farmers worried during Tuesday's meeting, which attracted a standing-room-only crowd in the basement of Roza's headquarters.
One dairyman told the board the rate increase would cost him an additional $600,000 over the next 10 years.
Troy Martin, a land manager and grower in the Roza district, said the cost does not justify a one-time, temporary drought project.
"I am always in favor of access to more water, but only if it is cost effective and this is not," he said in a written statement to Roza.
Orchardists and those growing permanent crops generally spoke in favor of the Kachess project and the assessment increase.
"This is something that is worthwhile and I urge the board to follow through. You've got a good plan. Do it," said Dick Olsen of Olsen Brothers Ranches, which grows permanent crops in the Prosser and Benton City areas.
"This water short year is a good reminder that we need to plan for the future and make the investment to help protect our permanent, high-value crops in our junior water right district," Leif and Martin Olsen, also of Olsen Brothers Ranches, said in a written statement supporting the plan.
Dick Olsen also noted the value of lands in the Roza district could be negatively impacted if other water sources aren't pursued.
One of the few permanent crop farmers opposed to the plan is John Badgley, who grows fruit trees in the Wapato area.
He told Roza's board his family farm only bought land in the district because there is an emergency well. Otherwise, he said investing permanent crops on lands served by the district is a risk given its junior water right status.
That was echoed by farmer Brian Bosma.
"If you have been conservative in your business practices you should not be obligated to pay for someone has not."
Dairyman Jason Sheehan of Sunnyside also opposes the pumping plant and rate increase, but told the board he feels the project should go through for those willing to pay for it.
The "opt in" or "opt out" idea was favored by others in the crowd, as well.
But setting up a separate funding district has its own legal hurdles, District Manager Scott Revell told the crowd. He said while such a move could be possible… it likely wouldn't be probable in time for next summer's watering season.
Responding to complaints about not receiving written notices about the proposed project or rate increase, Board President Ric Valicoff pledged the district would send out mailers about the issue and the special meeting set for Nov. 30.