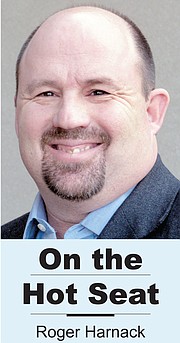 It's hard to believe Thanksgiving is just a few days away. It's a time to give thanks for all that we have here in Eastern Washington.
Having lived in many places around the nation and overseas, I can say we definitely have reasons. Our communities here east of the Cascades, still have strong family values. We have friends and neighbors who check in to make sure everything's OK. We have volunteers who personally take time to help our needy. Those are rare in other places of our state and nation.
Thanksgiving is a time to see the newest holiday movies with your family and friends. It's a great time to make that annual trip to the mountains to find the perfect Christmas tree to cut down and bring home. It's a time to feast and lounge in front of the TV watching your favorite gridiron greats battle it out. It's a time to make holiday memories that will stand the test of time.
What could be better than a few days of family, fellowship, football and food? Certainly, not "Black Friday."
Yet, when Thanksgiving rolls around next week, many people will kick their family time to the curb. They head to the store — often on Thanksgiving Day itself, not even waiting for Black Friday — to purchase that sought after and discounted new electronic device, this year's fashions, gifts and more.
This year, however, a few retailers are changing the tide.
Cabela's, Costco, Game Stop, Nordstrom, REI, True Value and other major retailers have vowed to keep their doors closed on Thanksgiving Day. Many have taken steps also to alter those mad-rush Fridays by spreading out sales, rather than have huge "door busters" at 5 a.m. A few, like Nordstrom, have also made a commitment not to put out Christmas items or sales until Thanksgiving passes.
Here in Sunnyside, Mabton and Grandview, almost every business has already decided to observe the holiday, giving residents the time to reflect on the reasons they should be thankful. At the Daily Sun News, we'll be closed Thanksgiving Day as well.
It's nice to see retailers making a commitment to preserve Thanksgiving, rather than bowing to the almighty dollar. That alone, is one more thing we should be thankful for.
Still, like most of you, I'll be doing some shopping next weekend. But you won't find me in line hours and hours. I'll pick up a few things a day or two after I have a nice holiday dinner with loved ones, trek into the mountains for that perfect Christmas tree, hang up the holiday lights and make memories that last a lifetime.
I encourage you to do the same.
Happy Thanksgiving.