Sharon K. Mhyre of Sunnyside is thankful for…
My name is Sharon K. Mhyre. I live right outside of Sunnyside and I am an artist. I am thankful for the blessing of my family and friends. I am fortunate to have access to the medical help I need as well as a roof over my head and food on the table despite being unable to work. I thank G-D every day for giving me the love and understanding from those surrounding me to help me appreciate every day, no matter what kind of pain I am in, or what I am going through. I wake up every day thankful for my life and finding joy in even the smallest things. My life is truly blessed.
Molly Beghtol of Grandview is thankful for…
I am thankful for so much. My wonderful husband, who is also my best friend, my incredible sons and their families, my grandson and granddaughter, my job and many other things. I honestly didn't expect to live this long, so many things amaze me. Beautiful sunrises or sunsets, the incredible nature we have around us and wonderful people who enrich my life every day.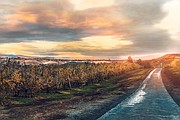 Mandy Kennedy of Yakima is thankful for…
I am thankful for the ability to wake up every morning. Life is amazing. It's a journey of twists and turns. When it seems like the world has turned its back, I just remember that I can still breathe and that in itself is beautiful.
Betty Lynn Garza of Grandview is thankful for…
I must say I am very thankful for being alive and for my sons Jeremy and Adrian… who have been my reason for everything I do. I am thankful for my siblings Oscar, Norma, Estella, JoAnne, Terry, Juanita, Judy (RIP), Raymond and Sarah. I am very thankful for my future daughter-in-law Ileana Martinez. I love you all so much. Life would mean nothing without you all. My cat, Kitty, kept me sane during a mid-life crisis… love her!! Every day I wake up and go to work and return home to my little family is priceless and I would never change my life.