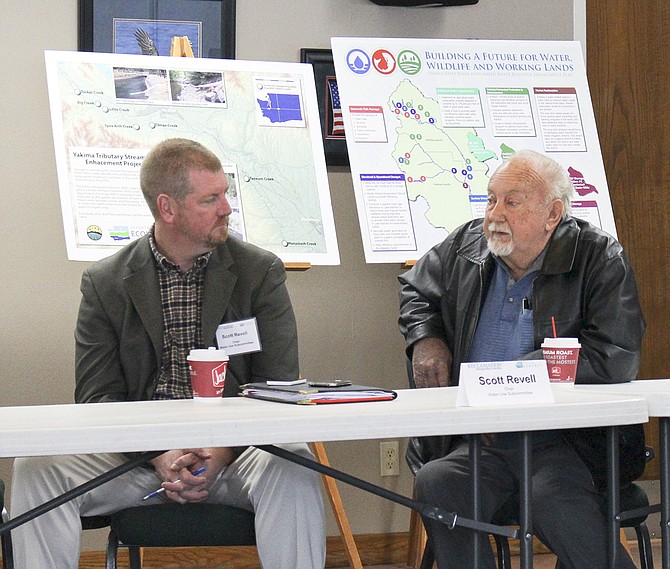 YAKIMA — Faced with a drought this past summer and possibly another one next year, the Roza Irrigation District is on board with the Yakima Basin Integrated Plan.
Ron Van Gundy, a long time employee for the Roza Irrigation District, says it is a good plan.
"We stand ready to do whatever we can to help draft legislation to make it a reality," he said.
Van Gundy was one of more than 20 people attending a roundtable discussion of the Yakima River Basin Water Enhancement Project yesterday.
Organized by the office of Congressman Dan
Newhouse R-Sunnyside, the meeting highlighted the collaborative development and implementation of the Yakima River Basin Integrated Water Resource Management Plan.
"We've gone through a tough water year, and we feel this plan will help those pro-rated districts going forward," Roza District Manager Scott Revell said.
Revell, who recently outlined a portion of the integrated plan to the members of the Washington State Grape Society, was in Washington, D.C., to promote the Yakima River Basin Enhancement Project.

Tuesday he and Van Gundy were on hand to support the plan.
Last week, a bill sponsored by Sen. Maria Cantwell passed through committee, and now Newhouse is seeking support in the House of Representatives.
Newhouse is working with Rep. Dave Reichert on legislation for Phase III of the Yakima River Basin Water Enhancement
Project.
According to Newhouse, the current water supply in the Yakima Basin is unable to meet existing human and environmental
needs.
The water plan will improve the reliability of water supply for irrigation, and other out-of-stream uses, while simultaneously rebuilding fish runs, improving stream flows, and protecting headwater areas, Newhouse said.