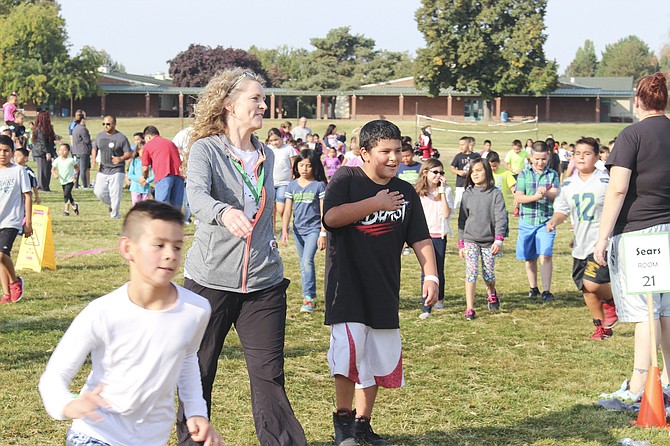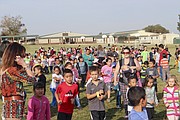 GRANDVIEW - Harriet Thompson Elementary School students flooded the playgrounds last Friday morning to participate in the school's annual walk-a-thon.
While walking was the theme of the 30-minute outdoor activity, most of the school's more than 640 students chose to run around the course.
The walk-a-thon is one of the school's biggest fundraising events, but according to Principal Julie Wysong, the event isn't all about raising money. She said it's also about encouraging children to be healthy.
"We want our children to remember to have a healthy heart and that making healthy decisions can help both our bodies and our academics grow stronger," Wysong said.
During the walk-a-thon, students in preschool through fifth grade walked to raise money for their school. The students walk around their designated field for the 30 minutes, getting a tally mark on their paper bracelets every time they passed their teacher.
The children are now go out into the community to seek donations, based on the number of tally marks they collected during the walking event.
Wysong said the money raised by the walkers helps pay for special field trips, student awards and incentives throughout the school year.
There are prizes given to classes who walked the most laps, classes who raise the most money, and the boy and girl who raise the most money get to go to a Grandview High School athletic event with either Wysong or Vice Principal George Graf.
This year's event was organized by physical education teacher Haley McGinnis and school secretary Kacy Braman.