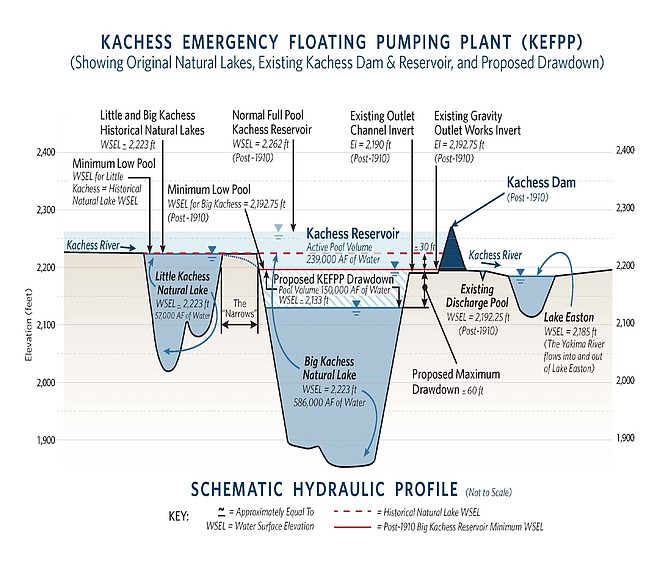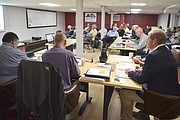 Undaunted by cost, and a prospective partner's late withdrawal, the Roza Irrigation District board on Thursday approved constructing a floating emergency drought relief pumping plant in the Kachess Reservoir.
Yesterday's action came at the end of a two-hour discussion during a special meeting at Roza's office in Sunnyside.
Roza's board has been mulling the idea of an emergency pumping plant at Kachess since at least last fall…but the notion moved to the front burner after this past summer's worst drought in a decade.
A junior water right holder, Roza's growers received just 47 percent of their typical irrigation water allotment this past summer.
The Bureau of Reclamation anticipates next summer could be worse, with farms on the Roza receiving maybe 25 to 30 percent of their usual irrigation water supply.
Yesterday's action authorized staff to expedite as quickly as possible the permitting process in hopes of having the Kachess plant up and running by next July.
The price tag will be about $58 million.
Roza plans to seek a 10-year bank loan of $50 million at an interest rate of about 4 percent. The district, to date, anticipates receiving about $8 million in grant funds.
According to figures presented yesterday, Roza land owners will see their assessments increase by $86 per acre to pay for the Kachess plant.
Farmers with smaller land holdings are going to be the hardest hit.
"It's going to put people in a financial bind…I think you're undertaking a very risky deal," said Tom Garrison, a Roza grower.
He said those risks include the possibility that environmental and endangered species issues could delay the project past next summer.
In that case, he says, Roza farmers will have paid extra money but have nothing to show for it during next summer's water season.
Ron Grow is a Roza board member and has the smallest land holdings compared to his colleagues on the board.
He agrees that small land holders will feel the pain. But he also feels there's no other choice.
"I know it will be difficult for some folks…but I think it is an insurance policy," Grow said of prepping for future droughts. "It is a very good investment."
Roza and staff have been working to make it a cost-effective investment.
HDR, Inc., hired by Roza, estimated it would cost $68 million for a plant capable of pumping 150,000 acre-feet of water during a drought emergency.
However, that also took into consideration interest by the Kittitas Reclamation District, also a junior water right holder, in partnering with Roza.
Scott Revell, Roza's district manager, informed the 40 or so people in attendance yesterday that the Kittitas group will not participate in the Kachess plan for 2016…but is still considering taking part in future years.
In a cost savings move, then, as well as to speed up the permitting process, Roza's board on Thursday approved a plan to construct a floating emergency drought pump at Kachess capable of generating at least an extra 50,000 acre-feet of irrigation water. One acre-foot equals 43,560 gallons of water.
Other elements of the plan intended to save money include using diesel-powered generators rather than run electrical power to the pump.
Bob King with HDR also noted that if the Kachess plant isn't operational by next summer, Roza farmers will still be ahead because they'll have the extra water available – if needed – for 2017.
A potential boon for Roza farmers, however, is causing heartburn for those who live at Kachess.
Grant Learned Sr. lives in the Kachess community and traveled to Sunnyside to participate in yesterday's meeting.
Residents of Kachess have a host of concerns about Roza's plan, ranging from property values to water capacity to the loss of recreational access.
"You want to make your area better, but you're taking water from our area," Learned told the board.
Yet, he agreed with King in noting the obstacles to Roza's plan "…aren't insurmountable."
Those supporting Roza's plan include former Congressman Sid Morrison and Charlie de La Chapelle of the Yakima Basin Storage Alliance, a proponent of the ill-fated Black Rock Creek Reservoir proposal.
"We've been after storage for a long time," de La Chapelle told the board. "I don't share your full optimism…but go get'em!"