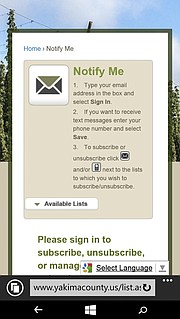 A report that claims manure and fertilizer spreading in some areas is likely contaminating the Lower Valley's groundwater is getting mixed reviews from the Lower Yakima Valley Groundwater Advisory Committee.
That group met Thursday night and considered a request from Matt Bachmann of the U.S. Geological Survey to hear a formal presentation of a report he authored.
Bachmann, in a written note to committee facilitator Jim Davenport, stated his report will be made public, perhaps as soon as next week.
The report didn't exactly float with many of the groundwater committee members convened last night at the Sunnyside School District's Denny Blaine boardroom.
Stu Turner, an agronomist and member of the advisory committee, didn't like the fact Bachmann relied on computer models to track groundwater contamination.
"Models are for those who don't have data," Turner asserted. "You diverge from reality when you go to models. With computer-generated models…you're letting the computer fly the airplane."
The Lower Yakima Valley Groundwater Advisory Committee is also conducting research into the causes of local groundwater contamination…but is basing it on soil sampling.
The group recently launched a third wave of deep soil sampling on local farms.
Steve George with the Yakima County Farm Bureau sits on the advisory group, and he cautioned colleagues last night that groundwater models like Bachmann's do not consider changes in farming practices.
Growers apply water and fertilizer far differently than even a few years ago, George contends, so models based on long-standing ag practices are flawed.
"It's a big concern for those of us who are farming here," said George.
There are also some on the advisory group with long memories…and perhaps hurt feelings over Bachmann's past relationship with the groundwater committee.
"They were at the table (participated in groundwater committee meetings), they didn't get any money for their study and left," said dairy farmer Jason Sheehan, a member of the advisory.
There were, however, a couple of voices urging the committee to give Bachmann's report a look-see when it is published.
"We can object all we want, but it's coming out," said Yakima County Commissioner Rand Elliott, chair of the groundwater advisory. "This is going to be published and you can either choose to listen or ignore it."
Elliott added that Bachmann is not competing with the groundwater group.
Jean Mendoza, who represents Friends of Toppenish Creek on the groundwater group, feels Bachmann's report could be a useful tool.
"I look at California and all the problems they're having...I'm looking for anything that will help the land," she said.
The groundwater committee met somewhere in the middle last night on the issue.
Group members decided against Bachmann making a formal presentation at this time, however it asked a working group – or subcommittee - to review Bachmann's report after it is published.
The Lower Yakima Valley Groundwater Advisory Committee will next meet on Thursday, Dec. 17, at 5 p.m. at the Denny Blaine boardroom.
It will be the last meeting for which Yakima County staff will personally send reminder e-mails to the 20 or so committee members.
That's because the county, as part of its recent website redesign, is moving to a system where committee members click on "notify me" on the county site at yakimacounty.us and indicate they want meeting reminders automatically e-mailed or texted to them.
The service is also available to the public and applies to all meetings of Yakima County boards and committees.
Some cities, like Sunnyside, have previously implemented a web-based meeting notification system.
During the December meeting groundwater advisory members will receive a tutorial walk-through of the "notify me" program.