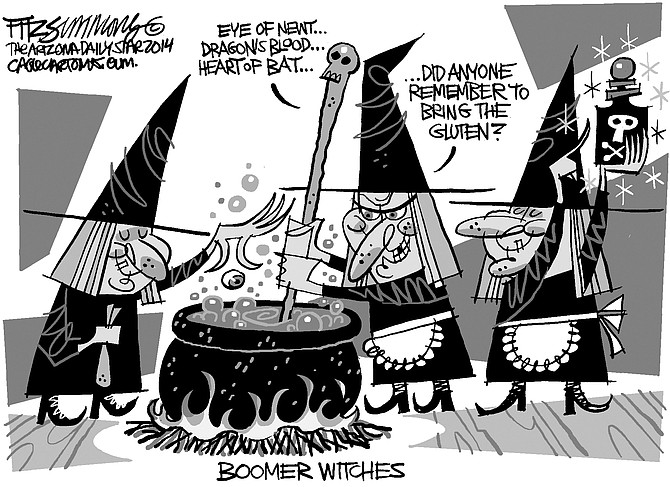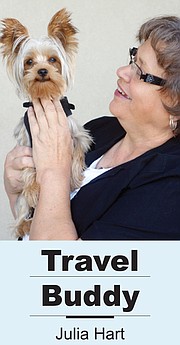 Buddy has been pretty jumpy lately. He seems to have noticed the longer shadows in his trips through the garden. Maybe he suspects the dark corners of the yard are hiding things that go bump in the night.
I don't think he has missed a single opportunity to issue "bark alarms" during the invasion of squirrels in his back yard in recent weeks. Not to mention his ongoing battle with cats that sneak into his domain when he is in the house. That is a bark fest that can last for five to 10 minutes at a time.
Buddy's sudden unease might also be attributed to his wee mind's sudden comprehension that I've been busy dragging out ghost and skeleton decorations. My zest for decorating for Halloween usually means something bad is going to happen to him.
Did I mention he is a pretty smart little guy? Buddy doesn't mind all the extra activity at the house during Halloween. He is always on the lookout for a random treat coming his way. But that is the only thing he likes about Halloween
He hates dressing up. He finally lost his temper last night, when I decided to see if last year's doggy Halloween costume still fits him.
Traditionally I dress him and his pal Winston up as additional decorations to amaze and delight the small trick or treaters in my neighborhood.
Coaxing him to let me try on his adorable canine Batman costume, complete with cape, was a real struggle. He just wasn't interested in helping me dress him up.
Buddy raced around the living room for about 15 minutes, trying to separate himself from the full body costume.
He was not a happy camper. Buddy hates his costume, which makes no sense to me.
Normally, I have no problems dressing my little pal in his green glow-in-the-dark safety vest for his nightly excursions. But there is something about his Batman costume that just ticks him off. Maybe he is just afraid of bats.
Winston didn't seem to mind his little Robin costume, and Georgia the Bassett Hound is very happy with her sparkly red party dress.
Regardless, Buddy is not cooperating. I've tried doggie treats and other forms of bribery, but he just won't have it.
So, to keep peace in the house, I have decided to give in and not subject Buddy to a Halloween costume this year.
On the other hand, maybe I can coax him into a different kind of super hero costume. I wonder if I have time to find him an "Underdog" outfit.