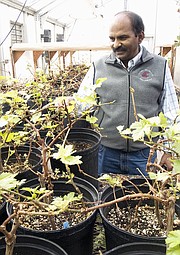 PROSSER — How do you make sure the new starts you're planting in your vineyard are free of disease?
Dr. Naidu Rayapati of Washington State University's Irrigated Agriculture Research and Extension Center in Prosser aims to find the answer.
Recently, he received a nearly quarter-million dollar grant from the USDA to research strengthening the local wine grapevine supply.
"If you introduce new cuttings (to your vineyard) you could be introducing problems," says Rayapati. "If there are contaminated cuttings it can take three or four years before you realize there is a virus."
His $247,878 USDA-funded research starts this month and will continue for two-and-a-half years.
The effort includes a two-pronged approach.
One is encouraging wine grape growers to have cuttings from their vineyard tested for disease or virus. Rayapati says growers can call his office at 509-788-5350 to have a cutting tested.
"Depending on the volume of samplings, we can have the results in a day or two," he said.
Another focus is increasing the availability of vineyard cuttings from planting stock that is certified clean, free of disease and virus.
"The first line of defense is to plant with clean plant materials," says Rayapati. "Plantings that are tested, free from serious virus problems…so when you plant that certified material it means you are planting healthy.
"We encourage growers to do their homework and seek certified plantings," he said.
Rayapati, whose previous work at WSU's Prosser center includes researching the grapevine leaf roll virus, seeks to work with local grape growers.
"We're really seeking help from the industry to address these problems," he says. "Cooperation from the industry stakeholders is very important for the success of the grant.
"It's a partnership that can work and help everybody," Rayapati says.
The USDA grant Rayapati received was part of a $4.1 million funding package targeting Washington state ag research projects, ranging from hops to potatoes to cherries.