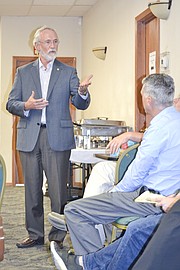 GRANDVIEW – Planned Parenthood, the Middle East and presidential politics were all on the table during U.S. Congressman Dan Newhouse's appearance at the Grandview Rotary's luncheon meeting Wednesday.
Part of a whistle-stop tour he made yesterday between Yakima and the Tri-Cities, the Fourth District first term Republican spoke to a full house of about 60 Rotarians from the Lower Yakima Valley.
A freshman Congressman representing the Fourth District, Newhouse expressed support for a proposal that would put federal funding of Planned Parenthood on hold for a year pending the outcome of an investigation on allegations the organization sold body parts of aborted fetuses.
In yesterday's wide-ranging discussion, Newhouse also said one of the toughest decisions he's faced to date in Congress is the nuclear treaty with Iran.
He says the idea of peace is good…but there are too many concerns about Israel's security. Newhouse was one of about two dozen Congressmen who recently visited Israel. He told the luncheon crowd yesterday that Israel's people, current government and even opposition parties are all unified against the Iran deal.
When asked about his thoughts on the current presidential campaign – with 17 Republicans vying for the office – Newhouse hedged and said he first wants to hear more from the candidates.
"I want to see the cream rise to the top," he said.
Other topics of concern yesterday included reforming the VA – Newhouse says at least half of the calls his office receives are from veterans dealing with VA issues – and immigration.
On the immigration front, he said it is taking longer than he thought to get action. Newhouse, a Sunnyside farmer, said many parts of the country don't see the importance of migrant labor to farms in the Pacific Northwest and elsewhere.
Newhouse told Rotarians he fears presidential campaign politics might put immigration reform on the back burner.
Eastern Washington's burning forests this summer also brought a call from Newhouse yesterday for the U.S. Forest Service to do more in culling and harvesting timber to reduce the tinderbox in rural areas of the country.
"If you think the smoke was bad here…in Omak the visibility was a quarter-mile," Newhouse said of recent visits to fire-stricken areas. "Two years in a row we've had our worst fire seasons…we don't need a third."
Newhouse also lobbied yesterday for federal legislation to aid victims of wildfires much like that received by victims of other natural disasters like hurricanes and tornadoes.
The idea would be to free up federal assistance funds through FEMA to aid those who lose homes and properties to wildfire.
From fire to water, yesterday's free-range discussion gave Newhouse a platform to continue pushing for federal funding of an integrated plan to increase water storage and fish habitat in the Yakima Basin.
He may have been Rotary's featured speaker yesterday…but Newhouse said the last word belongs to his district.
"I need you to be active constituents," Newhouse told the lunch group. "Stay in touch and communicate."