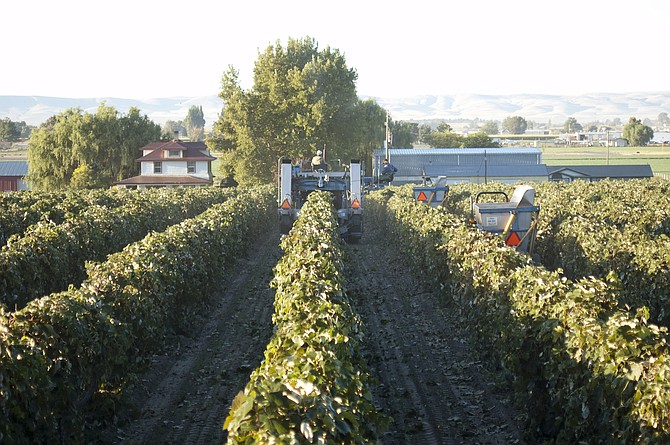 Don't try convincing local grape growers that climate change isn't occurring.
It's only the first week of September, yet grapes in the Lower Valley are already being harvested.
For National Grape Cooperative growers the start of the season began earlier this week.
That's because of unusually warm weather this past summer, according to the cooperative's vice chairman, Craig Bardwell.
He said Niagra grapes grown near Sunnyside are among the first of the fruit to be harvested this week.
"It is very early," said Bardwell, noting Niagra grapes typically are harvested after the Concord grapes come off the vines.
"But, they ripened too quickly and wouldn't have lasted very well," he said of this year's Niagra crop.
Concord grapes grown by National Grape Cooperative growers, said Bardwell, will be harvested beginning next Thursday, Sept. 10, about 10 days early.
Milne in Prosser will begin the Concord harvest on Sept. 14, according to the processor's director of sales and marketing, Shannon Elkins.
"Heat has been the big story this summer," Elkins said.
The growing degree units, which are the average between the high and low temperatures compared to a base temperature used to measure plant development, totaled 2,574 this growing season. That's an increase of more than 500 units in 2015 over 2014, according to Elkins.
The heat, said Bardwell, "…pushed along grapes very quickly."
But the news isn't bad for local growers.
Bardwell said higher than average sugars are anticipated, which will help juices and jams to be naturally sweetened.
The yields for 2015, both Bardwell and Elkins agree, are expected to run on the average side.
"The yield is a little lower than last year, but last year's production was a little higher than normal," said Bardwell.
He said grape production and yields in the Wapato and Roza irrigation districts may have been impacted by water shortages, but he doesn't think the impact will be all that great.
Elkins said his firm anticipates a four-week grape harvest season this year.