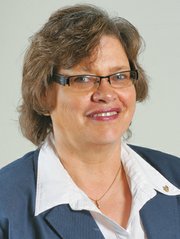 Buddy, my faithful and opinionated pal, hates it when I get all sad about the lack of support for community celebrations. I think he understands that I'm just trying to determine why people won't support certain events.
Take for example, Sunshine Days. Just a week or so ago, we had one of the saddest Sunshine Days events in recent memory.
We had a parade and a Miss Sunnyside Pageant and the Sunnyside firemen served up a dandy firemen's breakfast.
But, that was it.
I went to the parade, took hundreds of photos, visited with a few friends on the street and like the rest of the meager parade crowd, I went home when the parade ended.
Later, I wandered out to the Silbury Hill Alpaca Ranch, where a fundraiser for the Yakima Humane Society was being held, complete with craft vendors, and entertainment. Sad to say, not many people were there, either.
Buddy and I wonder where everyone was.
It's too bad not many folks were enticed to line the streets for the floats, bands and marching groups.
Still, a parade was held, as was the annual Miss Sunnyside Pageant later that evening, due in no small part to the leadership of Teri Alvarez-Ziegler.
The social media site - "You know You've Lived in Sunnyside" - was lit up right after the parade ended with people complaining about the lack of Sunshine Days events. Many were asking if there were more events planned for the weekend.
Sadly, no.
There were no vendors, no food booths nor any sidewalk sales downtown. There was no carnival, no car show and no pony rides.
Why?
Well, Buddy and I have a better question – if Sunnyside citizens want a September community day complete with a street fair, where were the volunteers? When the Sunnyside Chamber of Commerce asked for help to organize this year's event – no one responded.
Buddy and I have heard people say all the time that the mysterious "they" ought to do something to attract people downtown.
Well - where were "they" when the planning was going on?
And before you get all indignant about that question, consider this. Over the past few years Sunshine Days has been dying a slow and painful death, with fewer vendors and smaller crowds. It's not like the community festival dried up over night.
Forty years ago, the street between Decatur and Franklin Avenues was lined with local art and crafts booths during Sunshine Days. There were a lot of local food booths, ranging from the famous Kiwanis tacos to the Rotary ice cream sundae booth and the Lions pancake and hamburger stand.
Sunnyside's downtown merchants all toted out their loss leaders to line the sidewalks with tables of marked down merchandise. It was three days of shopping and eating heaven.
Of course, there was also entertainment ranging from the bubble gum blowing contests to karaoke and fashion shows on the main stage, as well as a carnival.
But that was then and this is now.
Then, there was a very strong committee of dedicated volunteers who began meeting in March to plan the September event.
Now, not even a handful of people can be counted upon to organize the activities for the once-a-year community celebration.
Maybe this community of more than 16,000 souls needs to consider that Sunshine Days is a festival that has outlived its purpose and lost its identity.
Maybe it is time to let Sunshine Days go the way of Ford Day, Founder's Day and Snipes Day – gone and forgotten.
Maybe there is a group of new and reenergized volunteers willing to step up and claim the responsibility to organize and host some other event that will draw the entire community together.
If that does occur - Buddy and I will be on the bandwagon to promote their efforts.
If not, maybe September 2015 was the last time a Sunshine Days event will have been staged.
More like this story