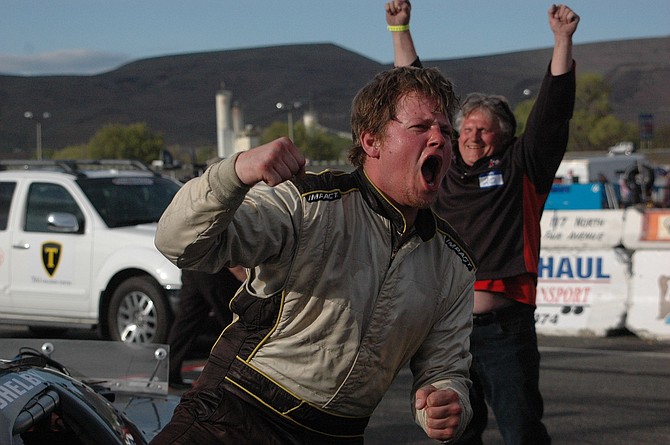 YAKIMA — Drivers in the Northwest have spent the last five months during the off season gearing up for the 50th running of the Apple Cup at Yakima Speedway.
The Apple Cup is one of the most prestigious races on the west coast and will kick off the 2016 Northwest Super Late Model Series season.
One driver who hopes to continue a streak is Spokane native Shelby Thompson. Last year, Thompson picked up an emotional win at the Apple Cup, just one year after he ran out of fuel on the last lap while leading the 2014 Apple Cup.
"I'm really looking forward to getting back behind the wheel of a race car and couldn't be happier about going to Yakima Speedway for the Apple Cup." Thompson said. "We've had a great car these last couple of times at Yakima and looking forward to trying to get back to victory lane."
Sometimes in racing, drivers look forward to grabbing the big trophy or hardware for a prestigious event, but for many drivers adding your name to the back of the famous Atomic Screen Printing and Embroidery shirts is even more special. "Many great drivers have won this event and this year to be able to see my name on the back of the shirt under all of those great drivers is pretty special" Thompson said. "The tough part now is to be one of the drivers who have won it multiple times, I feel like we have a good chance this weekend. My car owner, Todd Havens, and our crew have been working hard this off season and we look forward to another Apple Cup this weekend."
The journey for Thompson this year will not be easy as he will have to hold off some of the best drivers in the Northwest in his attempt to capture a second straight Apple Cup. Over 23 cars are expected for this weekend's race. This year the race will be 150 laps, with a break at Lap 100 and a 50-lap shootout. Other drivers expected are previous Apple Cup winners Pete Harding, Garrett Evans, Owen Riddle and Mike Longton.
The 50th running of the Apple Cup kicks off with practice today. Time trials and qualifying Heats are tomorrow, with main events scheduled Sunday, April 10.