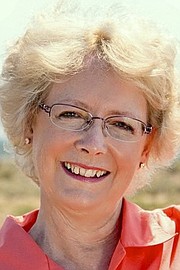 PROSSER — A councilwoman is hoping the third time is the charm for her efforts to become a state representative.
Mary Ruth Edwards is a candidate for the open seat in the 16th Legislative District.
Maureen Walsh held the seat, but is now running for the state senate.
Edwards said she has run twice against Walsh before.
"Although I didn't win, I did better against her than anyone previously," she said.
Edwards said she spoke with Walsh before making the decision to try for a third time.
Edwards has lived in Washington state since 1969, and raised a son and daughter in Prosser.
She's a teacher who recently made the jump from teaching fourth grade to a first grade classroom at Whitstran Elementary School. She's also on the Prosser City Council.
"Although doing both jobs may seem very arduous, I enjoy them both very much," she said. "I'm getting to see how government works, up close and personal."
She said working with younger students is more like herding cats than her previous work with older students, but she finds the work extremely rewarding.
"But I want to do more," she said. "As state representative, I will be your voice in Olympia."
The 16th District covers Walla Walla and Columbia counties along with areas of Benton County, including Prosser.