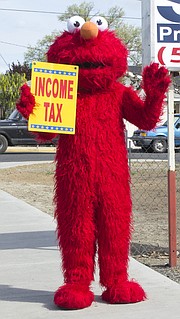 SUNNYSIDE — Tax filers have three extra days this year to submit federal income tax returns.
The usual filing date is today, but it is a holiday in Washington, D.C. As a result, the due date is postponed to Monday.
But don't expect the U.S. Postal Service to extend its hours, too.
The Sunnyside branch will be open its normal hours, Postmaster Isidro Rodriguez said.
"I don't think we opened late last year, and I don't think we will do it this year," he said. "Just regular hours, 9 a.m. to 5 p.m."
Postal employees in Grandview and Mabton both said they will be open during normal hours, as well.
Local tax preparers say it may be difficult to find filing help this late in the game.
"People can file an extension if they haven't started their taxes yet," tax preparer Silvia Ramos said. "It will give them six months to work on their taxes. It helps to avoid all the penalties and interest fees the IRS charges."
Phelicia Mendoza, supervisor at Liberty Tax Service in Grandview, said those expecting a refund shouldn't be as worried.
"The 18th is the last tax day if you owe taxes, so you need to file by that date," she said. "If you are getting a refund, you won't see the same penalties and fees as if you owe."
It's still a good idea to file on time, Mendoza said. She recommends gathering information on income along with social security numbers, home mortgage statements, property tax statements and any other income verification forms and getting to a tax preparer as soon as possible.
"If you need help or extensions, you should come in and we'll help," she said.
Ramos said many file for extensions, which is one reason she stays open year-round. Mendoza said Liberty Tax stays open all year for the same reason.
"While tax season is early in the year, people need our services all year long," Mendoza said.
Ramos also said those concerned about what they owe can also set up a payment plan. That results in monthly payments easier to handle than a lump-sum amount, she said.
"There is so much flexibility now," she said. "Any tax preparer can help set up those plans."