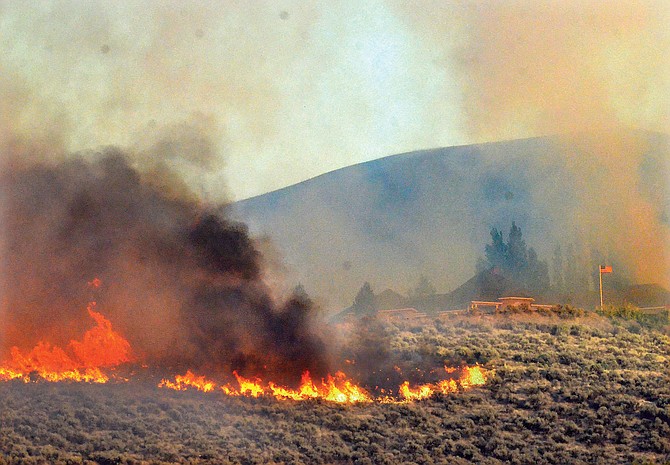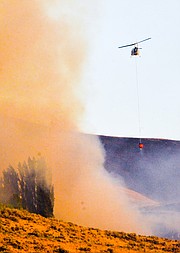 Residents are returning to their homes today after the South Ward Gap Fire prompted evacuations.
Montecito Road and state Highway 22 residents stood by last night watching firefighters battle a blaze on Horse Heaven Hills directly above their homes.
Three homes were destroyed.
They watched in fear that their neighbor, Dr. David Grow, would lose his home.
Helicopters and airplanes flew overhead, unloading water on the fire.
Winds kicked up and flames rose to surround the house seated above a peaked hilltop, racing toward the neighborhood.
Tear-filled families quickly loaded into vehicles stuffed with as many personal items as they could fit.
Flames raced to within yards of their homes.
Residents were initially evacuated to the intersection of the highway and Market Street last night.
Scott Roehl, a Sunnyside native, said he, his wife Lorena and their daughter Heather just moved into their home at 261 state Highway 22 a month ago.
"We were preparing to evacuate when the wind picked up and we had to leave," Roehl said.
"I think that was my house, my truck and my van," he said as black smoke rose in the air.
His wife broke into tears.
There was a sense of awe and fear at the evacuation site.
Pastor Brent Hulett of Grandview Church of Nazarene was in the evacuation area. He said eight families from the church helped the families evacuate the ridge.
"We had the privilege of praying for David Grow's family and the families in the neighborhood," Hulett said. "We also helped evacuate horses."
At about 9 p.m., evacuees were asked to move to the intersection of state Highway 221.
Some decided to go to the Red Cross shelter.
"We just got a flood of people," volunteer Heather Wyttenbach said.
Officials with West Benton Fire and Rescue, Richland Fire Department and other agencies scrambled as the 1,000-acre blaze in the Byron Hill area threatened homes.
One evacuees at the Red Cross shelter at Housel Middle School, 2001 Highland Drive, said homes in the area were threatened by a wildfire three years ago. Residents battled that fire with garden hoses.
With the wind pushing flames east last night, officials went door-to-door both in and just outside the city limits asking residents to leave.
"We've probably knocked on 30-50 doors," City Administrator Dave Stockdale said.
The evacuation notice was lifted at 11:19 p.m.
Officials also closed state Highway 22 at Richard Road.
West Benton Fire Chief Seth Johnson asked for state wildfire assistance.
The state sent seven wildland strike teams and three Type 1 strike teams, Deputy State Fire Marshal Lysandra Davis said.
While the assistance is appreciated, Stockdale said crews won't arrive until today.
Resources are stretched due to the massive Ridge 12 fire, he said.
"We've called nine different fire jurisdictions, all the way to Walla Walla, but only three could send fire trucks," he said. "All we've been able to do is let them know they need to head out.
"We're just trying to protect people and property."
Steep terrain made firefighting efforts difficult.
"It's kind of hard," Stockdale said. "But they're doing a good job of creating fire breaks."
City employees helped in the fight, including the city clerk and finance director.
"All of our public works employees came on duty to protect our main water tower," Stockdale said. "The fire was only 300 yards away from it."