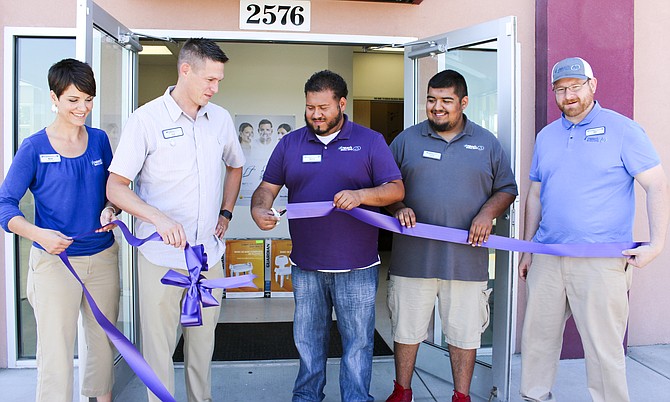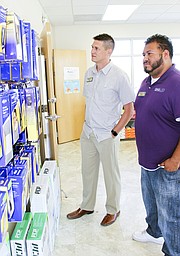 SUNNYSIDE — There hasn't been a full service medical supply business in town since 2010.
When Erik Mickelson learned more than 400 people a month were traveling from the lower valley to access his Yakima medical supply company, he began looking for a closer location to better serve them.
The Howard's Medical Supply chief executive officer celebrated opening his fourth company store at 2576 Yakima Hwy. with a grand opening ceremony last Friday.
"It has been well received," Mickelson said. He also has stores in Selah, Yakima and Ellensburg.
Mickleson said the grand opening gave his staff an opportunity to invite local health providers and professionals to visit the store, located behind Taco Bell, next to the Battery Store.
"We are in the big pink building," he said.
The store is large enough to have a full line of medical supplies on the first floor, and the potential for a call center on the second floor, Mickleson said.
Howard's Medical Supply store carries everything from support hose to bath seats and wheel chairs. Arrangements can be made to deliver larger items like hospital beds or lift chairs, he said.
"We have a large warehouse of supplies and trucks, which make regular deliveries to our store," he said.
Currently, the 12-year-old company has its call center in Yakima.
"I plan to opens a lower valley center here in the near future," he said, with the company's entire call center moved to Sunnyside at a later date.
Mickleson said the company was founded by his father-in-law's family as a pharmacy in 1956 in Selah.
"When I married into the family, I suggested we expand into medical supplies," he said.
The company currently employs 35 people. The local store has one employee, but Mickelson envisions having three employees at the store by the end of the year.
Mario Hernandez is the local team leader.
The store is open Monday through Friday, 9 a.m. to 5 p.m. Representatives are on call for after-hours deliveries. Customers can call 509-515-0200 for more information.