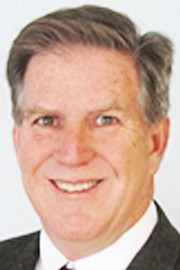 OLYMPIA — The race to replace Peter Goldmark as public lands commissioner looks like it'll be a battle between an environmentalist and a conservationist.
Political newcomer Steven McLaughlin, 60, easily walked away from a field of seven candidates in Tuesday's primary election.
"I celebrated last night and now I'm working to win the general," McLaughlin said Wednesday. "I'm very pleased for the results. To come out as strong as I did, I'm very happy. But I also realize I have a long way to go."
A Republican residing in the Hood Canal area, McLaughlin tallied 293,190 votes, or 39.1 percent, in the initial count in his bid to lead the state Department of Natural Resources.
Environmentalist Hilary S. Franz, D-Bainbridge Island, finished a distant second with 156,112 votes, or 20.8 percent.
Goldmark, an Okanogan rancher, is not seeking re-election.
Only the Top 2 candidates advance to the general election Nov. 8.
"I have a plan to bring balance, accountability and leadership to this office," McLaughlin, a self-avowed conservationist, said. "That begins with healthy, working forests."
McLaughlin said he is looking forward to winning the election and "doing good things for all citizens of Washington."
Through wise use and management of public lands, McLaughlin said he believes he can help restore rural economies.
That would be accomplished by taking down road blocks to forest access and protect working farms and forests, he said.
With more than half of state-managed land essentially taken off the tax rolls in the name of habitat protection, McLaughlin said he will prioritize management changes.
"Let's take a hard look at that and put land back into production," he said, noting wise use will also help prevent forest fires.
That election plank may be the basis for his strong support in Yakima and Benton counties in the primary.
As of yesterday afternoon, McLaughlin had 9,394 votes, or 57.9 percent support, from Yakima County residents casting ballots. He also had 12,991 votes, or 59.7 percent support, from Benton County.
Franz also finished second in Yakima and Benton counties, with 1,884 votes, or 11.6 percent support, and 2,359, or 10.8 percent support, respectively..
Goldmark protege Mary Verner, who was in the spotlight defending Natural Resource's actions before, during and after the state's catastrophic wildfires the last several years, finished fourth statewide with 96,345 votes, or 12.9 percent.
She was third in Yakima and Benton counties, respectively receiving 1,467 votes, or 9.1 percent, and 2,101 votes, or 9.7 percent..
The agency was largely criticized for failing to properly manage timber resources through timber sales, thinning projects and clearing the forest floors of slash piles, all factors residents of several fire-damaged areas said led to the largest blazes in state history.
The largest fire in state history remains the 2014 Carlton Complex, with burned 256,108 acres mostly in Okanogan County.
The 2015 fire season was the worst on record, with multiple fires burning more than 1 million combined acres.
Other candidates not making the cut were Democrats Dave Upthegrove, third with 101,396 votes; Karen Porterfield, fifth with 38,472 votes and John Stillings seventh with 28,878 votes.
Libertarian Steve M. Nielson was sixth with 35,096 votes.
In the weeks leading up to the primary, McLaughlin called for "careful management" of the 3 million acres of public lands managed in trust by Natural Resources as a timber-revenue source for rural schools.
According to McLaughlin, more than half of the state-managed lands is already set aside for conservation projects.
"The remaining working forests must provide a steady stream of revenue for our schools and protect jobs in rural communities," he said.
Franz, prior to the election, vowed to end steep-slope logging, curb carbon pollution and protect forests and farms from "development pressures."
A lawyer, she is a member of the activist groups Washington Environmental Council and Conservation Northwest and is currently CEO of Futurewise.
McLaughlin is retired from the U.S. Navy after 25 years and has served as an incident command system instructor, training nearly 1,000 firefighters.
He has also worked with recovery efforts for victims of the Oso landslide and Eastern Washington wildfires.
A critical infrastructure protection consultant for a Lynnwood engineering firm, he has a bachelor's degree from University of Oregon and a master's degree from U.S. Naval War College.
McLaughlin's family remains committed to American military, with his wife, Julia, serving as "athletic director" for U.S. Navy installations in Puget Sound. He previously lived in Wenatchee.
Franz, 46, is on Bainbridge Island City Council and has served on Puget Sound Transportation Futures Taskforce, Puget Sound Salmon Recovery Council and Kitsap Regional Coordinating Council, among others.
She was also appointed to former Gov. Christine Gregoire's Climate Action Team.
Franz has her law degree from Northeastern University and a bachelor's degree from Smith College.