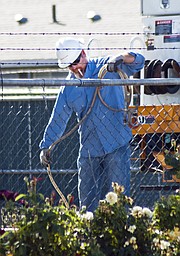 One curious squirrel knocked out power to 6,389 local customers for more than four hours today.
The outage was reported at 8:04 a.m., Pacific Power spokesman Ry Schwark said.
"A squirrel and substation aren't a good mix," he said of the animal getting caught in a transformer.
Power was partially restored at about 12:20 p.m.
Residents took the rodent-induced outage in stride.
"I didn't get my breakfast burrito," Brianna Esqueda said, hoping for a warm breakfast at Safeway, which relied on a back-up generator. "It's not happening."
Bill Flower smiled, and looked to a higher power while waiting for electricity to return.
"I was at the (Holy Trinity Episcopal) church when the power went out," he said. "But there was no problem because there was a light through the window.
"I'm keeping the faith."
The outage extended to the Outlook, North Avenue and Harrison Hill areas, as well as north of town in the Woods Road area.
Traffic signals were out in some locations, including 16th Street and Yakima Valley Highway and Grant Avenue and Sixth Street.
City Hall and the School District office were without power this morning.
Power was out at the city's fire and police departments, which also used backup generators.
Not all areas of town were without power. Residents on Jackson, Harrison, Kearney and Lincoln avenues reported having electricity this morning.
And Sunnyside Community Hospital and its clinics did not lose power, spokesman Ryan Rodruck said.
A squirrel was also blamed for a 45-minute power outage Dec. 28, 2015, that impacted 1,800 customers.