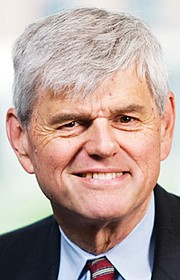 TOPPENISH — The president of Heritage University will be stepping down at the end of the 2016-17 academic year.
On Friday, John Bassett announced his plans to retire next summer.
"My six years at Heritage have been the most rewarding of my career," Bassett said Friday. "I could not be more proud of where Heritage is and more excited for its future."
Bassett, only the second president in the university's 34-year history, said he is retiring to spend more time with his children and grandchildren in the Midwest.
"When you have your first grandchild at age 70, you want to spend as much time as possible with them as you can since you don't know how much time you'll have with them," the 74-year-old Bassett said.
University board Chairman Rick Pinnell praised Bassett.
"I have often said that there was no person better than John to take Heritage from adolescence to adulthood," he said. "Heritage took a quantum leap forward under John's leadership. All of us in the Valley hold our heads high knowing we have Heritage in our midst, and thanks to John's leadership the university is poised for an even brighter future."
Under Bassett's leadership, the university established an array of new degree programs including master's degrees in physician assistant and medical science, and a bachelor program in nursing.
The university also added an early childhood education and pre-engineering programs.
Bassett also managed the university's recover after a 2012 fire that destroyed the original campus building, Petrie Hall.
Since the fire, five new buildings have been erected on campus; two more will be completed and dedicated Sept. 15.
"Filling John's shoes will not be easy" Pinnell said, noting the search is already under way.
Bassett isn't the only Heritage University leader to step down this year.
On July 1, university Vice President Curt Guaglianone, 59, began working as Mount Adams School District superintendent.