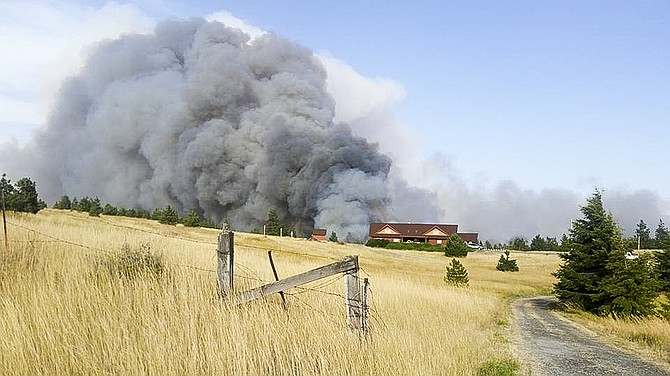 DAVENPORT — Evacuation notices remain for those living near the 4,920-acre Hart Fire.
Located south of the Spokane River, the fire has been burning since Sunday and is 36 percent contained, officials said.
Crews made progress on constructing a fireline around the fire, Wednesday.
Moderate temperatures and calm winds aided in the firefighting effort, which is being supported from the air and the water. Four helicopters, five "fire boss" single engine scooper planes, as well as a National Park Service boat are being used to provide water over the fire and safety support for firefighters, officials said.

The primary focus going forward will be strengthening fireline in the northwest portion of the fire and extinguishing all flames within 300 feet of structures, official said.
The Hart Fire is just one of several burning in Eastern Washington.
Crews have been in mop-up mode to contain the Tule Road fire on Yakama Nation reservation lands. That blaze also led to evacuation notices, which have since been lifted.
In the Leavenworth area, favorable weather and forest conditions along the upper Chiwawa River continue to be excellent for managing the Buck Creek Fire to enhance wilderness values and achieve resource benefits.
Crews are reporting primarily low-to-moderate intensity fire behavior as it creeps and moves along the forest floor.
Yesterday, the fire continued to spread along Phelps Ridge to the northwest. The fire is currently 1,987 acres.
"Lower-intensity fires like Buck Creek minimize the risk of big fires from coming into the community in the future," Wenatchee River Ranger District Fire Management Officer Cary Stock said. "Our fire management decisions will help decrease risk to the public and firefighters for years to come as hazardous fuels are reduced across the landscape."
That area of the Glacier Peak Wilderness has not seen a fire in nearly 100 years of recorded fire history, officials said.
Fire closures remain in effect for the Buck Creek Fire, which include all campgrounds north of Schaefer Creek Campground and all trailheads along Forest Service Road 6200.
Some smoke may be noticeable in local valleys during the morning hours.
Statewide response to Eastern Washington's fires have included Gov. Jay Inslee declaring an emergency for 20 counties, including Yakima and Benton counties.
"I join Gov. Inslee in offering our thoughts and prayers to those who have lost their homes," Republican gubernatorial candidate Bill Bryant said. "I know firsthand the threats of wildfires, as we were evacuated from our home in Winthrop in 2015, and were surrounded by the fires of 2014.
"The wildfires in Eastern Washington are a reminder of the importance of sound forest management practices to minimize the likelihood of fire, and the risks to life and property."
The state Department of Natural Resources has responded with campfire bans on public lands it manages.
Over the last six days, agency firefighters have responded to 82 wildfires. Investigators believe all but two of those were likely started by people.
Resource fire leaders are urging caution with the expected arrival of warm, windy weather in the extended forecast for this weekend.
"It is the personal responsibility of all Washingtonians to take seriously the possibility that working or playing outdoors can spark tragedy," Commissioner of Public Lands Peter Goldmark said. "Our firefighters work hard to protect our communities and our natural treasures. Don't make their jobs any harder."
To date, agency firefighters have responded to 592 fires that have burned 14,671 acres.