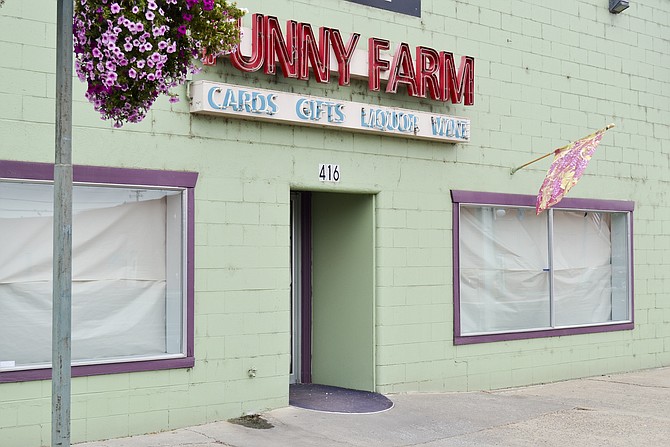 SUNNYSIDE — Two microbrewers have selected the city's downtown area for their new beer company.
Chris Baum and Chad Roberts of Varietal Beer Company last month signed a letter of intent with the Port District to lease the former Funny Farm store at 416 E. Edison Ave.
The former Snipe Mountain Microbrewery workers both live in the Yakima area, but chose Sunnyside over the rest of the valley.
"I like working in Sunnyside, it reminds me of the town I grew up in California," Baum said. "The fact that Sunnyside has a port is huge. It's been a lot easier for us to try and start a business there than people we know in Yakima."
Baum, who currently works for Bale Breakers, said rental costs played a big role.
"We've been looking around, toying around with this idea for years," Baum said.
"We all live up here and were trying to stay closer to home, but the rent in Yakima and Naches is really high. When the Port approached us it seemed like a good fit."
As with its office leases on Golob Landing, the Port offers start-ups like the craft brewery a reduced rent that gradually increases.
The letter of intent pegs Varietal Beer's monthly rent at $1,420 for the 5,456 square-foot building in year one. It then increases incrementally to $3,275 per month by year six.
The idea is to provide an "incubator" for new businesses, reducing overhead costs as they get started.
"It's great to see our plan working," Port Executive Director Jay Hester said of encouraging small businesses.
Varietal Beer's strategy is to showcase the different varietal of hops, and types of beers, Baum said.
A tap room will be on site, and the craft brewery will partner with food truck vendors, he said. There's the possibility of pairing beers to go with different foods.
Baum, a former wildlife biologist, will be the head brewer, Roberts will work in brewing and handle marketing and sales.
Graphic designer John Cope will also be involved in the business.
Baum said the Funny Farm site is appealing because of its agricultural roots.
"We looked into its background as a farm and feed store. There is some cool, old pictures of it," he said. "We'll try to incorporate some of that history in the place."
The port bought the property earlier this spring from Theresa Hancock for $185,000. She had operated a contract liquor store at the site.
Hester said the Port this fall will seek a loan/grant package from the county's Supporting Investments in Economic Development program to remodel the building
Start-up is about a year away. Besides construction, there are other considerations.
"We need to order equipment," Baum said. "There's a backlog for licensing at the Tax and Trade Board."
That doesn't mean the partners aren't preparing for the big move.
"We're doing some test recipes at home," Baum said.
As an employee at Bale Breaker, Baum saw firsthand the potential interest for their craft brews.
He worked downtown during the Summer Ale Festival in June.
"It was encouraging to see such a good turnout in a small town," Baum said of the festival at Centennial Square, just a few blocks from the Funny Farm building.
"The festival wasn't a make or break development in us deciding to come to Sunnyside," he said. "But it was a bonus to see so much interest."
On the other end of Fifth Street is the future home of Co Dinn Cellars. The Port acquired the former city Water Works building last year and work could start this fall to restore and develop the 86-year-old brick building into a winery and tasting room
"We think it has synergy with the Water Works building," Hester said of the Funny Farm's close proximity to the future winery. "We want to foster economic development downtown."
Baum backs that idea.
"Hopefully, we'll be another draw for people to come to Sunnyside," he said. "It will be really cool in the future during Cinco de Mayo or the Lighted Farm Implement Parade. People can go check his (Co Dinn's) scene out and come over and check out a beer. The more stuff there is to do the more people will stay around."
Baum is looking forward to that day.
"This is a big, life dream," he said.
Hester's glad they chose Sunnyside as the place to realize it.
"I'm just excited they want to come to Sunnyside," he said.