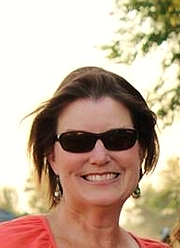 SUNNYSIDE — A local farm owner has spent the past nine years focused on providing educational opportunities and healthy choices for a variety of individuals in the community.
Now, Merritt Mitchell Wajeeh, 50, is expanding her role in the community as the Yakima Basin Project manager for Mid-Columbia Fisheries Enhancement Group.
She's no stranger to the group, as she has worked closely with the organization on her farm — Heavenly Hills Harvest — throughout the years. Mitchell Wajeeh partnered with the group three years ago to implement a riparian restoration project.
That project has been used as an educational tool for local elementary school students. They have planted numerous native plants near the Yakima River. They planted four plots of 192 trees and shrubs, including wood rose, cottonwood, willows, dogwoods and blue elderberry the first fall.
It's smaller projects like back yard buffers that Mitchell Wajeeh hopes to establish through similar partnerships with property owners on the lower Yakima River as a member of the fisheries group.
The mother of 11-year-old twin boys — Laith and Zachary Wajeeh — she believes it is important to preserve and restore the river and habitat for fish and animals that rely on it.
Mitchell Wajeeh has a Master's degree in environmental science. She worked eight years for the Florida Department of Environmental Protection — much like the Washington Department of Ecology — before she and her husband, Sam, moved to Sunnyside.
The agency was responsible for regulating power and municipal wastewater treatment plants in addition to the regulating environmental concerns, she said.
"I was a community liaison and ombudsman — I bridged the gap between the public and the government agency," Mitchell Wajeeh said.
Before that, she was employed at the Florida Aquarium. Her work there was much like the work she will be focused on with the Mid-Columbia Fisheries Enhancement Group.
"I worked to educate the public on fresh water storage and ecosystems," Mitchell Wajeeh said.
The partnerships are key to creating habitat and slowing the river down, she said. Fish in the river — salmon and other native fish — need shade and places to rest. "The babies need a place to take cover," she said.
Back yard buffers don't cost property owners along the river, but they have to be willing to assist the effort, Mitchell Wajeeh said.
It isn't just important for the fish, but for recreationalists and farmers, as well, she said.
"The Yakima River is part of the Yakima Basin Integrated Plan," Mitchell Wajeeh said. That means several organizations are working to see the improvement of the river and its ecosystem.
Included in her area of focus — the lower Yakima River — is Bateman Island and the restoration of the area where the river merges with the Columbia River.
She will also be providing educational opportunities for youth and the general public.
"I'm very excited I will be able to continue to work toward the overall health of the river and the restoration of salmon," Mitchell Wajeeh said.
"Any improvements we make to the quality of the river improves it for every need."