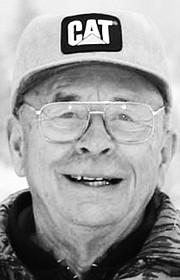 Dale Roland Yockey, 89, of Sunnyside, died Tuesday, Nov. 22, 2016. 
Dale was born in Pateros, Oct. 9, 1927, to Claud and Mildred (Girard) Yockey, of Winthrop.

It was in Winthrop where he spent his early years and gained the nickname "Windy" from his school classmates.
In high school, Dale excelled in sports, including baseball, basketball and skiing.  As a baseball pitcher, he helped the Winthrop Pirates, class of 1947, win the state title.

At an early age, Dale developed a huge passion for the outdoors. Hunting and fishing were in his blood and growing up in the Methow Valley allowed him to spend countless hours outside, where he could be found dropping a hook in the nearest fishing hole or hiking the ridges in hopes of spotting a deer or two.
After high school Dale attended Washington State College, where he continued to play baseball, and in 1952, graduated with a teaching degree in Industrial Arts.
After graduation, he enlisted in the Army. While at Fort Ord, Calif., he set the Special Training school's record for rifle qualifications and served as a sharp-shooter instructor before shipping out to Korea.
While in Korea, he met up with his college rifle team instructor who cleared the way for Dale to participate in athletic equipment procurement for the Army. In that position, he traveled throughout Japan and Hong Kong purchasing equipment and playing ball with the likes of baseball legend Whitey Ford and other Major League Baseball players.
After proudly serving his country, Dale returned to Washington and began student teaching at Sunnyside High School. It was there he met fellow student teacher, Eleanor Freese of Ritzville. On July 10, 1954, they were married and made their home in Sunnyside where they raised two sons and one daughter. 
Dale taught shop classes in Granger for 23 years. He took great pride in the successes of his students. He especially loved teaching his "girls shop class".
After retiring from teaching, he farmed his father-in-law's wheat ranch, Freese Farms, in Ritzville for 10 years, until both he and Eleanor could retire together.
After he and Eleanor retired they enjoyed traveling, gardening and spending time with family in Winthrop.
It was through the friendships of both teachers and students that Dale had lifelong fishing, hunting and card playing buddies. He found no greater pleasure than getting up at the crack of dawn to catch the morning sunrise, or huddling in a duck blind at dawn only to be serenaded by a buddy with a duck call version of The Star Spangled Banner. He loved the anticipation of opening day, of the next big bite, of turning over the last ace to fill 1,000, or cutting into a double-run.
His family was everything to him. Not just his kids and grandkids, but their friends as well. He was involved in everything they did.
He is survived by two sons, Loren (Diana) Yockey of Everett; Larry (Kelly) Yockey of Ritzville; daughter, Lorna (Pat) McGhehey of Everett; grandchildren, Jeff (Heather) Symons, David Symons, Amber (Kevin) Hull, Andrea (JC) Smith, Amanda Yockey, Lauren McGhehey and Cassidy McGhehey; four great-grandchildren; and two special nephews, Danny (Vicki) Yockey and Dewayne (Ginny) Yockey.
Dale was preceded in death by his parents, Claud and
Mildred Yockey; brother, Claude Jr.; and wife, Eleanor. 
We will miss you dad. Your stories, your anecdotes, your laughter. Thanks for teaching us the right way, the wrong way and Yockey's Way.

A private graveside service will be at 1 p.m., Friday,
Dec. 9, at Sullivan's Cemetery in Winthrop.
In lieu of flowers, take a child or a buddy fishing or hunting; or challenge a friend or family member to a game of cards and remember Dale.
Those wishing to sign Dale's online memorial book may do so at www.funeralhomesmith.com.

Smith Funeral Home is in care of arrangements.
More like this story