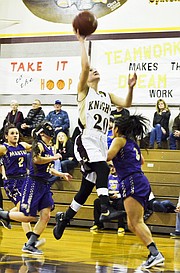 GRANGER — Home court advantage played true for three girls basketball teams Friday and Saturday.
A few teams — Sunnyside Christian, Sunnyside and Prosser — canceled their Friday games due to poor road conditions, but the rest played on.
Grandview and Granger won their home games Friday. The Greyhounds defeated Selah, 61-52, and the Spartans won, 60-34, over Kiona-Benton.
Saturday, Prosser defeated visiting Grandview, 75-48; and host Sunnyside Christian won, 64-54, over Mabton. On the road, Sunnyside defeated West Valley (Yakima), 54-45; and Granger lost, 55-59, to Columbia (Burbank).
Granger
The Spartans split their games, defeating Kiona-Benton on Friday and losing to Columbia (Burbank) on Saturday.
Alexis Castro led Granger both nights. She scored 24 points Friday and 20 Saturday. Nine of her points against the Bears came from behind the 3-point arc. Six of her points scored against the Coyotes came on 3-point baskets.
Also scoring in double digits against Kiona-Benton was Jayleen Vasquez with 14. She scored 13 against Columbia (Burbank) and Sophie Blodgett contributed 8 to the final tally.
The Spartans took an early 15-9 lead against the Bears on Friday. They outscored the visitors 10-6 in the second quarter to lead, 25-15. In the third quarter, Granger held Kiona-Benton to just four points, and in the final stanza outscored the Bears, 18-15.
Maloree Calzadillas led Kiona-Benton with 10 points.
Saturday, Granger opened with a 15-8 lead, and held the Coyotes to just 5 points in the second quarter for a 22-20 halftime score.
Columbia (Burbank) was outscored by the Spartans, 22-19, in the third quarter. The Coyotes battled back in the final quarter to outscore its host, 20-11, and get the win, 59-55.
Ali Martineau was the leading scorer for the Coyotes.
Sunnyside Christian, Mabton
Two local teams battled one another on the Sunnyside Christian hardwood Saturday night.
The Knights prevailed despite the hard efforts of the Vikings.
"Mabton is a scrappy bunch and works really hard," Sunnyside Christian coach Al Smeenk said.
Britnee Guerrero led the Vikings with 19 points, 12 of which were from inside. Ivett Sanchez contributed another 15 points, and Astrid Galarza scored nine. She led the team in rebounding with 15 — 8 defensive boards and 7 offensive.
"It was very impressive — they frustrated us at times," Smeenk said. "They made us work hard."
For the Knights, it was Kristen Broersma with a double-double. She scored 27 points and hauled in 15 boards — 11 on defense.
Alyssa Martin also scored in double digits — 11. Contributing an additional 10 points to the final tally was Sailor Liefke, whom Smeenk said shouldered the pressure from Mabton's defense.
"Our goal is to break the pressure and score on the other end," Smeenk said. "Sailor did really well and we were able to finish as she got the ball to Kristen Broersma."
Martin also helped create scoring opportunities, he said.
"We don't typically see their style — they have heart; they just don't quit," Smeenk said of Mabton.
Grandview, Prosser
Grandview split its games against Selah on Friday and Prosser on Saturday. Prosser did not travel to Quincy on Friday.
The Greyhounds opened Friday's game against the Vikings with an early 18-12 lead, but Selah rallied in the second quarter to outscore its host, 16-7. The Vikings had a 28-25 advantage at the half.
Grace Meza of Grandview kept the team motivated with three 3-point shots in the first quarter, but it was the hot hand of Michelle Ruiz that sparked the Greyhounds in the second half.
She scored 15 points in the third and fourth quarters combined, helping Grandview outscore Selah, 18-17 and 18-7, respectively.
Ruiz's final tally was 19 points; Meza's was 15 and Marin Bender was in double digits with 14 points.
Leading the Vikings with 17 and 14 points were Kylie Wilkey and Ashley Shurtleff, respectively.
Saturday's loss to Prosser was due to the combined efforts of Marissa Cortes, Brandi Groeneveld, Abby Rodriguez and Ali Cox. Cortes scored a game-high 23 points. Cortes tacked on 15 points; Rodriguez dropped in 13; and Cox scored 10.
Cox and teammate Brooke Wheeler also led the team with 12 rebounds apiece. The team tallied 48 boards.
Grandview shot only 30 percent from the field.
Ruiz was held to 12 points on the night, and the team had a total of 19 boards.
Meza and Bailey Duis each scored nine points for the Greyhounds. Karina Fajardo contributed eight.