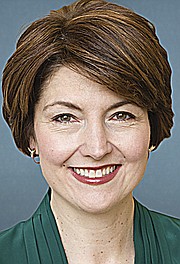 SPOKANE — An Eastern Washington congresswoman could be the next head of the federal Department of the Interior.
National media reports have indicated President-elect Donald Trump may select Rep. Cathy McMorris Rodgers, R-Spokane, the highest ranking Republican woman in the House of Representatives, McMorris.
If selected and confirmed, McMorris Rodgers would replace Sally Jewell of Seattle at the head of the agency overseeing 70,000 employees and managing hundreds of millions of acres of federal lands, including national parks and forests.
McMorris Rodgers would likely be tasked with rolling back many of the Obama administrations environmental restrictions and Jewel's rejection of natural resource extractions.
McMorris Rodgers has supported increased funding for fossil fuel and voted against fracking protections.
News of her possible appointment has been well-received by some, including a candidate for her position should it become vacant.
"Congratulations to Rep. Cathy McMorris Rodgers on her appointment to be the future secretary of the Interior in President-elect Donald Trump's cabinet," Spokane City Council President Ben Stuckart, a Democrat, said.
He will seek the 5th Congressional District post if McMorris Rodgers is confirmed.
While she has not had a high profile in environmental issues, McMorris Rodgers has been a trusted adviser to Trump, serving as one of the co-chairwomen for his transition team and working with the president-elect's daughter, Ivanka Trump, on childcare policies.
The League of Conservation Voters expressed concern about her appointment, however.
"Donald Trump just posted a massive 'for sale' sign on our public lands by nominating Rep. Cathy McMorris Rodgers for Secretary of the Interior," league President Gene Karpinski said.
"In Congress, Rep. McMorris Rodgers has consistently voted to prioritize drilling on our public lands and waters, including in sensitive areas like the Arctic, and even to open up our public lands for sale to the highest bidder."
McMorris Rodgers would also inherit the growing dispute over management of federal lands in the West.
In October, seven ranchers were acquitted of conspiracy charges related to their take-over of Malheur Wildlife Refuge in Oregon.