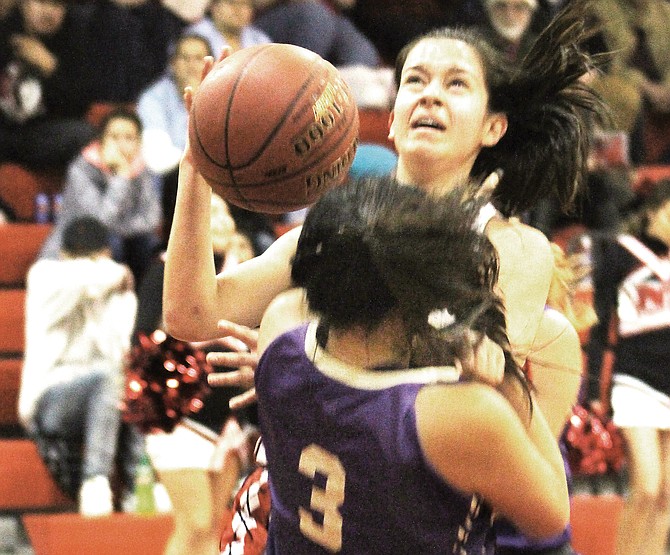 GRANGER — The Spartans girls improved to 6-1 last night after knocking off Mabton, 61-50.
Meanwhile, the Greyhounds took control of the court at East Valley (Yakima) with a 51-42 victory and Prosser edged Selah, 51-49, in overtime.
The Bickleton girls, too, posted a big win, knocking off Prescott 48-43. And Zillah dominated Goldendale, 83-32.
On the court in Granger, the Spartans dominated the game from start-to-finish.
"Free throws and rebounding did us in today," Mabton coach Chris McCallum said. "We had some breakdowns with communication that led to some wide open shots for Granger."
Granger's Alexis Castro led all scorers with 19 points, followed by teammate Naya Roettger with 17. Mabton's top scorers were Caitlin Rojas with 16 points, followed by Astrid Galarza with 14.
Granger was stronger on the free throw line, dropping in 10-of-18, compared to Mabton's 9-of-23.
The Vikings defense was more aggressive with 9 steals, compared to none for Granger.
Mabton (4-2) faces Liberty Christian tomorrow, McCallum said, noting the girls will "learn from this one (loss) and fast."
In other girls hoops last night:
The Greyhounds kept the East Valley (Yakima) Red Devils at bay, bringing home a 51-42 win.
The Grandview girls (4-2) opened up an 18-9 lead at the end of the first quarter and never looked back. A strong fourth quarter helped East Valley back in the game, but it was too little, too late.
Grace Meza paced the Greyhounds with 12 points. Bailey Duis added 10.
East Valley was led by Sydney Hooker with 10 points.
In a Central Washington Athletic Conference matchup, the Prosser Mustangs held on to defeat Selah in overtime, 51-49.
Brooke Wheeler led the Mustangs with 15 points, followed by teammate Asia Oliverez with 14.
Selah's Adriel Willis led all scorers with 25 points.
The Vikings took a 14-9 lead at the end of the fourth quarter, but battled back to lead 37-32 by the end of three. In the fourth, Selah outscored the Mustangs, 15-10 to tie the game and send it to overtime.
The overtime period ended with Prosser taking a 4-2 lead and winning the conference game.
On the hardwood at Bickleton, senior Hali O'Bannon put 20 points on the board to lead the Pirates to a 48-43 victory in a 1B matchup.
Pirate teammate Rosy Molina posted a double-double for the evening with 17 points and 21 rebounds.
Bickleton (2-1) led the entire game, jumping out to a 13-10 first quarter lead and expanding it to 23-17 by halftime.
Nayelli Flores paced Prescott with 12 points and Bianca Flores added 11.
The undefeated Zillah Leopards girls (4-0) pounded Goldendale (2-5) last night, 83-32, in a South Central-West Athletic Conference matchup.
Zillah scored more points in the first quarter than Goldendale did all game, taking a 39-12 lead at the end of one and expanding it to 60-17 by halftime.
Callie Rae Delp led the Leopards with 15 points, with Abbie Myers, Samantha Bowman and Trista Takes Enemy each adding 12.
Ocean Bryan led the Timberwolves and all scorers with 21 points.