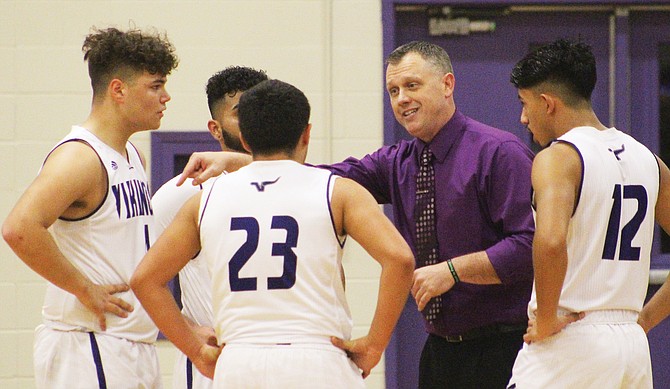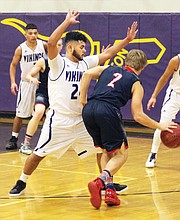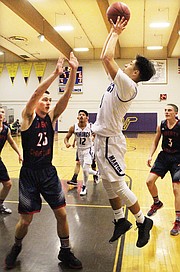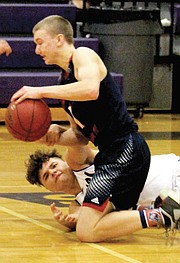 The Liberty Christian Patriots, propelled by a second-half surge, edged the Viking boys, 59-58, in 2B basketball action last night.
"Tough loss," coach Kerry Griffin said. "We could not score in the fourth, connecting only on two 3s."
Outscored 11-6 in the final quarter, that was enough for victory to slip through the grasp of the Vikings, who had led the entire game.
Juniors Max Ruiz and Diego Garza led the Vikings on the court with 21 points each.
T.J. Benavidez posted an additional 11 points, Mote Ruiz added 3 and Oscar Aguilar another 2 for Mabton.
Liberty Christian (4-3) was paced by juniors 6-foot Riley Sullivan and 6-foot-4 Stephen Carter each with 12 points.
Nico Shupe put up 11 points, Noah Olsen had 9 and Mason Sullivan and Trey Davis each added 6 for the Patriots. Jordan Godwin also put up 3 points.
The Vikings started out on a roll in the first quarter, doubling up Liberty Christian's score for a 16-8 lead.
In the second quarter, both teams scored 14, leaving the margin the same.
"Up by 8 at the half, we extended our lead to 19 early in the third," Griffin said.
It was that quarter that Liberty Christian surged, knocking down 26 points to put the game within reach.
The Patriots hit four 3-point buckets in the third to close the gap with Mabton.
Entering the fourth quarter, Mabton had a 52-48 lead. But the Patriots had the momentum.
Scoring 5 points more than Mabton in the fourth was enough to put the game away.
The 1-6 Vikings travel next Thursday to Burbank to take on the Columbia Coyotes (1-4).
The Coyotes are coming off their only win of the season, a 62-48 victory over the Royal Knights on Dec. 20
Tip-off is at 7:30 p.m. at Columbia High School, 787 Maple St., Burbank.