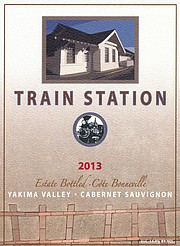 SUNNYSIDE — Next weekend will be an opportunity for wine enthusiasts from around the state to meet winemakers here in the Yakima Valley.
It's all part of the annual Red Wine and Chocolate event Valentine's Day weekend, Feb. 13-15.
Wineries from Yakima to the Tri-Cities will open their tasting rooms for three days of red wine samplings combined with the rich decadence of dark chocolate.
That includes the local Côte Bonneville Tasting Room, 1413 E. Edison Ave., which marks its first anniversary next weekend.
It's an event Côte Bonneville winemaker Kerry Shiels and her parents, Dr. Hugh and Kathy Shiels, eagerly anticipate.
"This weekend is special because its gives people an opportunity to spend more time talking with the wine makers, unlike the area bigger wine events," Kerry Shiels said.
The visiting groups are smaller than at Spring Barrel Tasting in April or even the Catch the Crush in October, the awarding winning winemaker said.
This year a new event has been added to the wine industry's list of Red Wine and Chocolate offerings.
Called the Secret Crush, the Friday, Feb. 12 event will feature 40 of the Yakima Valley's highest rated red wines from 17 area wineries.
Three of Shiels' award-winning wines will be featured during the Secret Crush, served at the Yakima Country Club, 500 Country Club Drive, from 6 to 9 p.m.
"This exclusive event will provide tastes of wines from the past, sneak peeks of wines to come, as well as coveted pours only available during Secret Crush," Wine Yakima Valley spokeswoman Barbara Glover said.
For more details and maps of participating wineries visit wineyakimavalley.org.