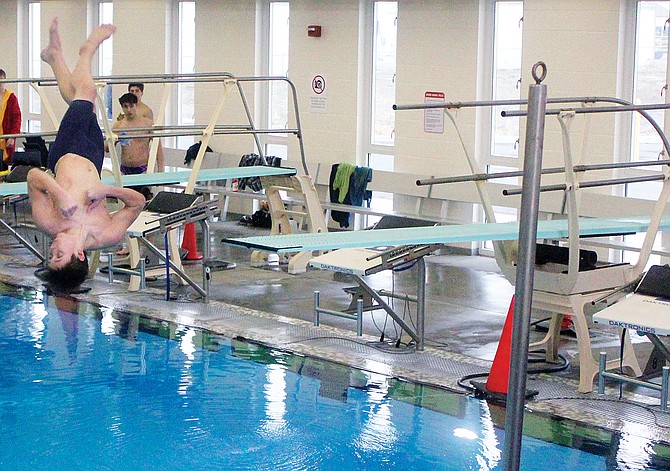 MOSES LAKE — A Sunnyside Christian athlete overcame a "messed up" dive Friday afternoon to qualify for the state meet.
Parker Van De Graaf, 14, is the only diver from the Lower Yakima Valley to qualify for state in Federal Way in two weeks. And as a freshman, he's the only diver ever for the Knights.
Van De Graaf said that although he was the lone small schools diver in the qualifier Friday, making state didn't come easy.
On his 10th of 11 dives, he "kind of messed up," he said, noting he needed at least nine qualified dives to make state.
During that dive — a somersault with a two-and-a-half twist, Van De Graaf appeared to come off the board a little sideways. But mid-air, he recovered his composure to complete the twist portion of the dive, enough for it to be counted.
"It's the hardest dive," he said. "I guess I did alright."
Van De Graaf competes as part of a diving cooperative with Granger and Zillah swimmers, who practice with West Valley High School in Yakima.
But none of his teammates made it through the diving qualifiers. So, for the next eight days, Van De Graaf will be a one-man team, he said.
Coach Heidi Tollackson said that will give her a more time to work with him individually leading up to state.
"We're going to go back to some of the basics," she said of her practice plan.
"He works on a trampoline a lot. It's easy for him to twist and flip. Now, we have to translate that to the board."
Tollackson is optimistic about Van De Graaf's chances at state. But she also wants him to enjoy the event.
"It's supposed to be fun," she said. "But it can be intimidating."