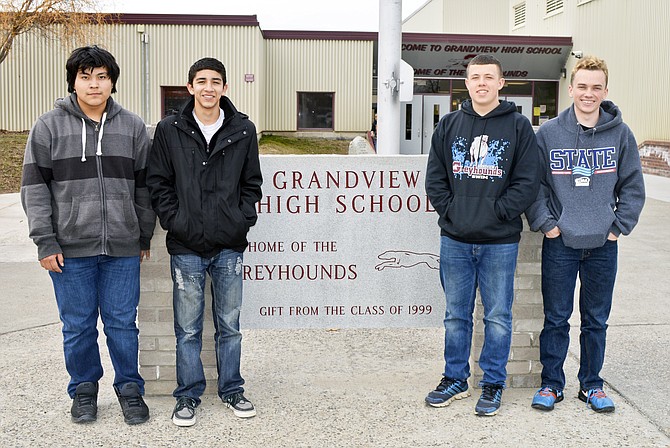 FEDERAL WAY — Six Lower Yakima Valley swimmers and one diver are headed to Federal Way to compete at the 2A and smaller Boys State Swimming and Diving Championships this weekend.
The Grandview relay team comprising Westly Lakins, Angel Morales, Micah Binfet and Tavian Valenzuela will be hitting the water in the 200 meter medley relay. Jonathan Flores is a team alternate.
Binfet also qualified for the state in the 100 meter breaststroke, while Valenzuela will be swimming in the 50 meter freestyle.
Prosser's Levi Russell will be competing in the 100 meter backstroke and Sunnyside Christian's Parker Van de Graaf will be diving for state honors.
Preliminary events get under way Friday in the Weyerhauser King County Aquatic Center, 650 S.W. Campus Drive. Finals take place Saturday.
Lower Yakima Valley competitors face a long swim to a trophy.
Van de Graaf comes in with a 13th seed, based on a diving score of 284.95 points.
Van de Graaf has been working on this "basics" for the last two weeks since qualifying for state at the district championships in Moses Lake.
The only diver ever to compete for Sunnyside Christian, Van de Graaf said previously that he's nervous about state, but thinks he's ready.
Coach Heidi Tollackson she's impressed with the rookie freshman's diving this season.
Van de Graaf, who practices with the West Valley Rams team, is the only one of Tollackson's divers to make it to state.
"He's done well," she said two weeks ago. "I hope he sticks around (three more years)."
His parents Greg and Laura Van de Graaf also hope he continues in the sport.
"We're very proud of his first year," Mrs. Van de Graaf said at the district meet. "Last summer, he was just doing flips on the trampoline at home. Now, he's really into diving."
Mrs. Van de Graaf admits watching her son dive "makes me nervous," but said she's proud of everything he's accomplished.
With No. 14 seed in backstroke, Binfet posted a top time of 1:05.91 this season, while Greyhounds teammate Valenzuela posted a 23.98 time, good enough for the 20th seed in the 50 freestyle.
Russell also enters with a 20th seed — his backstroke seeding time was 1:02.87.
And the Grandview relay team enters in 24th, with a seed time of 2:05.91.
Grandview swimmers said they're ecstatic and proud to be competing, with Binfet adding he is proud of his relay team.
"I'm happy to be going to state," added Morales.
Lakins, too, said its "good" being able to compete this year, after going as an alternate last year.
The Lower Yakima Valley competitors will also be joined at state by neighboring swimmer Nathan Koerner of Zillah.
Koerner qualified for the 200 meter freestyle with a time of 1:57.71, good enough for the 15th seed.
He will also be on the line in the 100 meter backstroke, seeded 14th, only a few spots ahead of Binfet. Koerner qualified for that event with a time of 59.20. 
Area swimmers will be able to practice in the aquatic center beginning at 3 p.m. tomorrow.
On Friday, 2A swimming and diving preliminaries begin at 9:45 a.m. They will run concurrently.
The 2A finals are slated to begin at 9:30 a.m. Saturday, with diving listed as the fifth event.