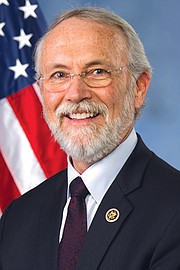 District representative appointed
Congressman Dan Newhouse of Sunnyside today announced Wednesday the addition of Okanogan County native Jessica McCarthy to the 4th District Congressional office staff.
She will serve as a District Representative, primarily serving Okanogan and Douglas counties.
Prior to joining Newhouse's staff, McCarthy served for eight years as Executive Legislative Assistant to State Representative and Republican Deputy Leader Joel Kretz, who serves Washington's 7th Legislative District.
WASHINGTON, D.C. — Congressman Dan Newhouse of Sunnyside announced Wednesday his vote in support of H.R. 3762, which would repeal major portions of Obamacare and prohibit federal funding for Planned Parenthood.
This legislation uses the budget reconciliation process, which allows legislation to move through the Senate without the threat of a filibuster.
"Americans have rejected Obamacare, and the House has acted with the Senate to dismantle the president's failed law." said Congressman Newhouse. "Under Obamacare, Washington families and businesses have faced higher taxes, insurance premiums, deductibles, as well as the loss of insurance plans and access to physicians they trust."
He said the repeal would save taxpayers more than $500 billion over the next 10 years and pave the way to replace Obamacare with a conservative, free-market alternative.
"Additionally, this legislation supports the lives of the most innocent: the unborn. Taxpayers should not be forced to have their hard earned money support the nation's largest abortion provider when there are many alternative community health clinics that support women's health without offending the conscience of the American people."
Though the bill was approved, it's widely believed that President Barack Obama will veto the measure.