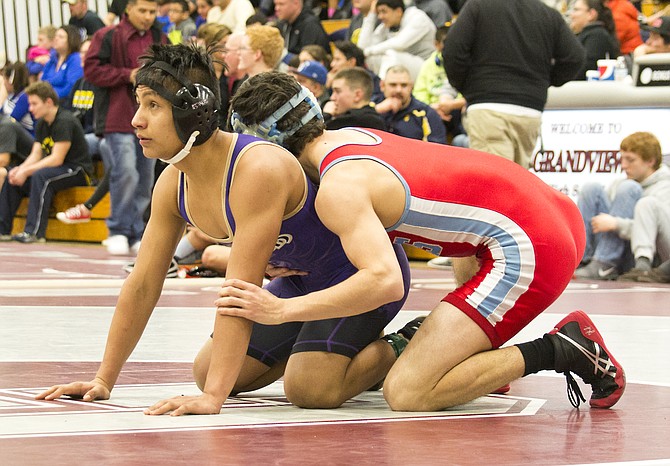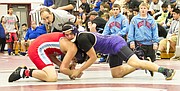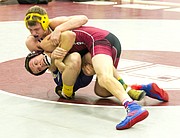 GRANDVIEW — Isaac Velasquez of Mabton brought home the Lower Valley's only first-place finish from Saturday's Grandview Winter Classic.
Competing in the 285-pound weight class, Velasquez pinned Wapato's Alejandro Salazar in 2:48 in the finale to win an individual championship. Gabriel Mireles won Mabton's other medal, bringing home third-place bling in the 126-pound weight class.
"He lost his first match, but he battled back," Vikings coach John Kilian said of Mireles.
Mabton placed eighth in the 13-team tournament with 52 points.
The host Greyhounds advanced four wrestlers to championship matches on the way to finishing in sixth place with 88 points. Wapato tallied 153.5 points to take team honors.
All four of Grandview's finalists lost in their respective title matches.
Grandview's second-place finishers included Adrian Benitez at 113 pounds, who lost in the title match when Wapato's Sergy Salas pinned him in 3:30.
"Adrian wrestled well, we was very aggressive," coach Ramiro Gonzalez said.
Also at 113 pounds, the Greyhounds' Cesar Galvan ended up sharing third place honors. "He wrestled well in his half of the bracket," Gonzalez said. Galvan also lost to Salas.
Sergio Gomez (120 pounds), Maurice Prieto (145 pounds) and JoJo Cisneros (152 pounds) were Grandview's other three runner-ups.
Gomez lost his match when Wapato's Alex Vaca scored a 15-0 technical fall.
Gonzalez praised Prieto for reaching his first tournament championship match, where he lost 17-1 to Washougal's Alan Christianson.
Cisneros put up the Greyhounds' toughest fight in the finals, losing 8-1 to Washougal's Taylor Leifsen.
"JoJo nearly had his opponent from Washougal going to his back a few times but lost a tough decision," Gonzalez said.