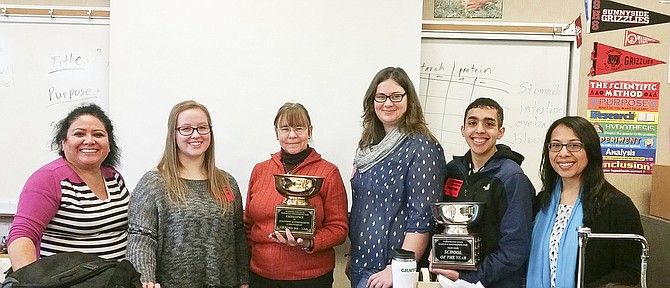 SUNNYSIDE — Ninth graders in Joyce Stark's honors biology class are preparing for local, regional and state science competitions.
They received encouragement last week from some of Starks' former science students sharing their science and academic experiences, as well as opportunities available for the science fair season.
Payton Sample, for example, is currently a freshman at Washington State University, hoping to major in Environmental Engineering.
She is the most recent of Starks' former high school students to attend the International Science and Engineering Fair held in Pittsburgh, Pa.
Andre Cavazos, another former Stark student who graduated in 2015 from Sunnyside High School, joined Sample during last week's visit.
He participated in science fair three years while in high school and is currently a freshman at the University of Idaho studying Civil Engineering.
"Be confident in yourself and focus on your project because you are the expert," he told Stark's ninth grade students.
Yasmin Barrios graduated from Sunnyside in 2000 and, while in high school, attended the International Science and Engineering Fair in 1999. She graduated with a Master's degree in Public Health in 2008 from the University of Washington. She most recently worked for the Harvard School of Public Health as a research project manager. She is currently pursuing her PhD in Epidemiology at the University of North Carolina- Chapel Hill, and shared with the freshmen students last week how science fair encouraged her to develop critical thinking, writing and presentation skills.
Stark's current students will compete in a series of science fairs during the next several months. They include the local science fair on Feb. 27, regional March 10-12 and state April 1-2.