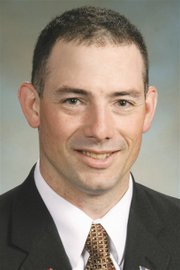 OLYMPIA — A local lawmaker is proposing legislation that he said will challenge new rules on transgender bathroom use and protect religious freedoms.
On Friday, Rep. David Taylor (R-Moxee) co-sponsored House Bill 2589, which seeks to address the issue of transgender bathroom use. Taylor, who represents an area that includes the Lower Valley, said the bill is in response to the state's Human Rights Commission.
The commission recently ordered that private as well as public establishments must allow those who identify as a member of the opposite sex to use that sex's bathroom.
"I am deeply concerned over the safety of our children," Taylor said of the issue. "There have been several instances here in Washington state which raise alarm."
Taylor said other steps are being considered to oppose the commission's edict.
"We are also working through the processes outlined in administrative law to challenge the new rules," he said. "The Human Rights Commission appears to have violated the laws governing the adoption of the rules by not publishing them in a timely fashion and failing to post the proposed final rules on the agency website."
Taylor added, "We are also looking into administrative remedies to address the procedural errors in the rule-making process."
He's hoping the bill gains momentum.
"The next step is to get a hearing in the House," he said. "I've been told there's a Senate companion, but I don't know if it's been introduced yet."
Yesterday, Taylor was among the sponsors introducing House Bill 2631, which allows private business owners the option to decline services for gay couples if it offends their religious beliefs.
The bill further prohibits the state from taking action against those refusing to provide services or goods to gay couples.
Taylor and the bill's other sponsors drafted it to be retroactive to December 2012. As a result, if passed it would overturn penalties against a Tri-Cities florist.
In 2013 the state's attorney general imposed penalties on Arlene's Flowers and Gifts in Richland because the store's owner refused to serve a gay couple planning their wedding.
"In my opinion, the state has overstepped its authority in forcing private businesses to provide services to people and organizations which are contrary to their religious beliefs," Taylor said. "The flower shop case in the Tri-cities is an example of the state suing businesses and forcing them to violate their religious beliefs."