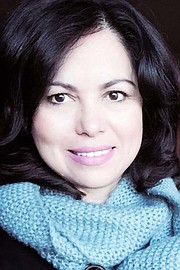 YAKIMA — Habitat for Humanity has a new leader with a background in helping Mabton residents secure funding for affordable housing.
Yakima Valley Partners Habitat for Humanity has hired Isabel C. Garcia as its new executive director. She replaces Steve Luten.
A former Catholic Charities Housing Services programs/loan specialist Garcia brings 10 years of housing counseling, funding expertise, project development and low-income construction experience to Habitat for Humanity.
"Her knowledge and passion will be a great asset helping Habitat build on its foundation of more than 165 homes built in the Yakima Valley," Yakima Valley Partners Habitat for Humanity board Chair Vicki Baker said.
Garcia began her career in low-income housing as a multi-family site officer manager for a Catholic Charities Housing Services in Mabton. She was later hired to be a part-time program assistant, and then promoted as a full time program/loan specialist.
Garcia is credited with developing strong program structure, as well as developing new funding sources for Catholic Charities Housing Services.
"The sweat equity home ownership program is an asset building tool that empowers families toward creating financial freedom," she said.
Habitat for Humanity is a home ownership program in which families purchase homes at no profit through interest-free mortgage.
Homeowners are expected to invest 500 hours of labor into their houses. Their monthly mortgages go into a revolving fund for Habitat to help fund the construction of more houses in the Yakima Valley.
"Though this process Habitat gives partner families a hand up, not a hand out, restoring the dignity that poverty can strip away," Garcia said.