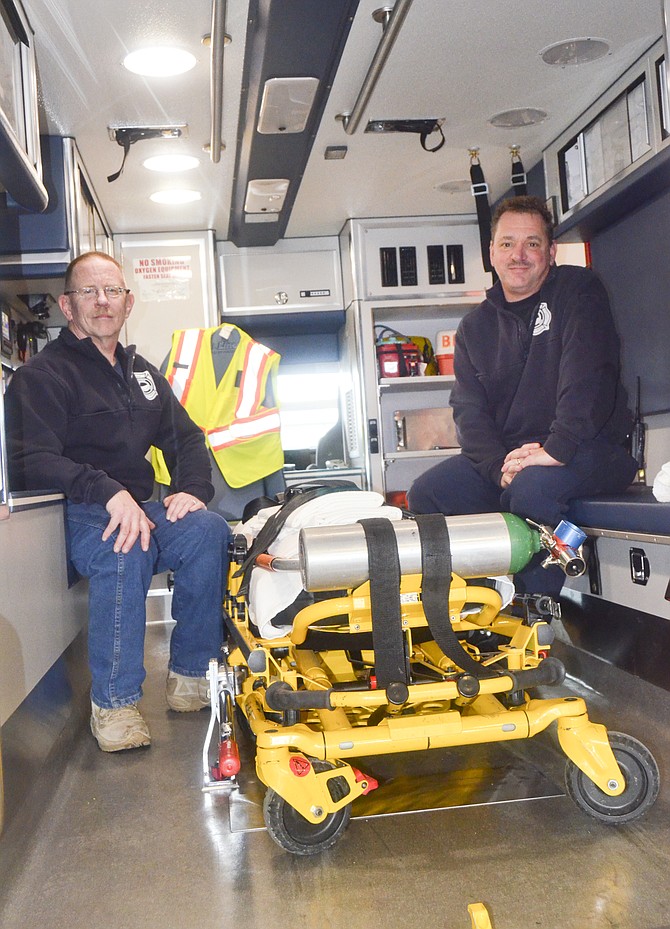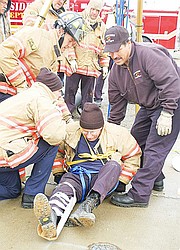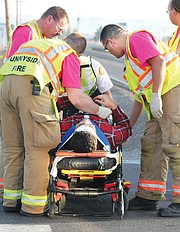 SUNNYSIDE — For two decades local residents have been able to count on paramedics in an emergency.
The city started its ambulance service in 1989, but it hired its first two paramedics in January 1996, according to Fire Chief Aaron Markham.
Those two paramedics, Dennis Blumer and Gregg Hutchinson, are still on the job.
Marra-Lynn Rodriguez, a Sunnyside resident, considers the paramedic service to be invaluable.
She has three family members who are alive and well because of the experts who treated them in dire situations.
Rodriguez's brother-in-law was in an on-the-job accident at a construction site. He suffered an electrical burn and fell from a building.
"They knew how to treat his burns," she said of the paramedics.
"As a result of the immediate care, he is functioning at 95 percent," Rodriguez said.
Her nephew nearly drowned and, though the accident took place near the hospital, Rodriguez said the rapid response of the paramedics was faster than the family driving the youngster to the emergency room.
"They got him breathing because they got right there… if it had been an out-of-town service it would have taken 20 minutes," Rodriguez said.
At the age of 12, she said her nephew is healthy and suffers no long-lasting problems from the accident.
The third family member Rodriguez is happy to have alive and well is her adopted son, who was in distress while his birth mother was in labor.
An emergency cesarean was performed and the baby boy had to be transported to a neonatal intensive care unit in Yakima.
"That's advanced life support," Rodriguez said.
Markham said advanced life support services is one of the benefits of having paramedics on his team at the fire department.
Blumer said the ambulance service from 1989 until 1996 was an intermediate level provider with two ambulances. Emergency medical technicians were providing emergency care to the community.
"The state in 1993 had changed laws regarding ambulance levels of service that prompted the city to improve its services," Blumer said.
"When we started, it was almost experimental."
Markham said the city had already changed the hours the fire station was manned. He was hired two years after the original ambulance service started.
During that two-year period the station was manned only until midnight. Response times were longer because "…everyone would receive a page if there was no one at the station," he said.
"When the service changed to an ambulance utility, it upgraded the level of care significantly," he said of adding paramedics to the staff.
Advanced life support and advanced airway treatments could be provided, which includes providing life-saving medications to those who are in critical situations.
The service and staff has grown significantly, too, said Hutchinson.
There are now eight paramedics on staff, providing 24-hour services to residents in the city's coverage area, which spans from Granger to Grandview, Blumer said.
There are four ambulances available for responses, too.
"We've gone through nine ambulances," Blumer said, noting the current fleet includes a new ambulance, one rebuilt last year and one to be rebuilt this spring. The fourth is a spare often seen standing by at athletic events.
The ambulance service was a big commitment on the part of the city, Blumer said. "The expense to equip the ambulance was about $20,000."
He and Hutchinson credit the forward-thinking and support of former Mayor Don Hughes, Fire Chief Gary Cole and Deputy Chief Roger Schwab.
"Roger was in charge of the ambulance service… he dedicated about six months to getting the paperwork and licensing for the paramedic service," Blumer said.
Hutchinson said, "We weren't well loved… not everyone understood."
That has changed, Blumer and Hutchinson said, as about 80 percent of the calls they respond to are for emergency medical services.