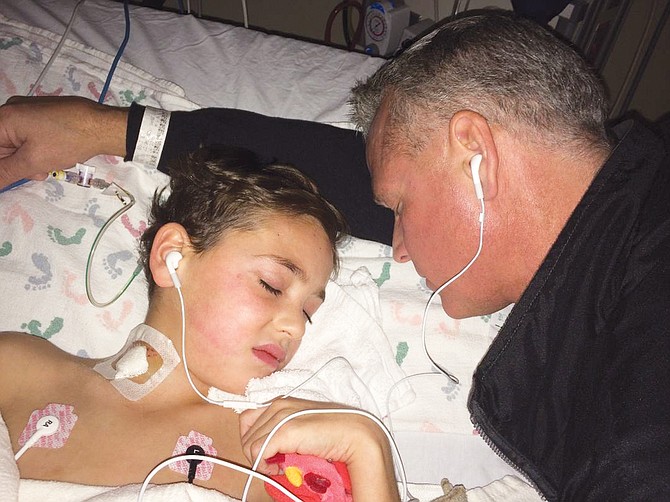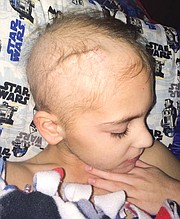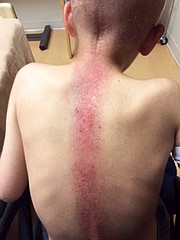 SUNNYSIDE — He is only nine years old but he is facing the biggest fight of his life.
In late November, Boaz Godfrey was diagnosed with medulloblastoma, a very aggressive, fast growing brain cancer.
Godfrey, the grandson of Dicie and Norbert Marquez, underwent a nine-and-half-hour surgery to remove a tumor the size of an egg. He is now undergoing chemotherapy and radiation therapy, his grandmother said. "Originally, we thought the tumor was much smaller," she said.
The boy's diagnosis was a shock to the family. He had been sick for several weeks in late November. For an active little boy who loves all kinds of sports, seeing him listless and ill was concern enough for his parents, Richard and Arlene Godfrey, to take him to the emergency room in Spokane, where they live.
Boaz's original diagnostic tests came back negative, Marquez said. Then an MRI was ordered and the family's worries turned to terror.
Boaz had a brain tumor. He also had several lesions on the frontal lobe of his brain.
Her grandson is now being treated at St. Luke's Rehabilitation Institute in Spokane.
"He was allowed to go home on Christmas day," she said.
For a time his parents took him to the hospital for his daily chemo and radiation treatments.
But the child's struggles with the side effects, of nausea and fatigue have caused some major concerns. Boaz is again in the hospital.
"He will receive his chemotherapy, as well as physical, occupational and speech therapy for the next year," Marquez said.
"We thought he would be able to take all of his therapies at home, but those will be at St. Luke's," she said.
Marquez said her grandson is emotionally fragile. "He misses being able to play the piano and his sports. But he always tries to smile."
The results of his first phase of treatment will not be known for several months. The side effects will last a long time after the initial treatment.
"He is a fighter," she said.
To help Richard and Arlene Godfrey with medical costs and travel expenses, the Marquez family and friends are hosting a "Benefit for Boaz" from 6 to 8 p.m. Saturday, Feb. 13, at the Toppenish Eagles. "There will be a $10 chicken fried steak dinner, a silent auction and music," Marquez said.
Currently she and her friend Pat Mott are collecting donations.
"We have to do something," Marquez said.
For more information regarding the Benefit for Boaz, contact Dicie Marquez at 509-830-3558 or Pat Mott 360-970-7658.