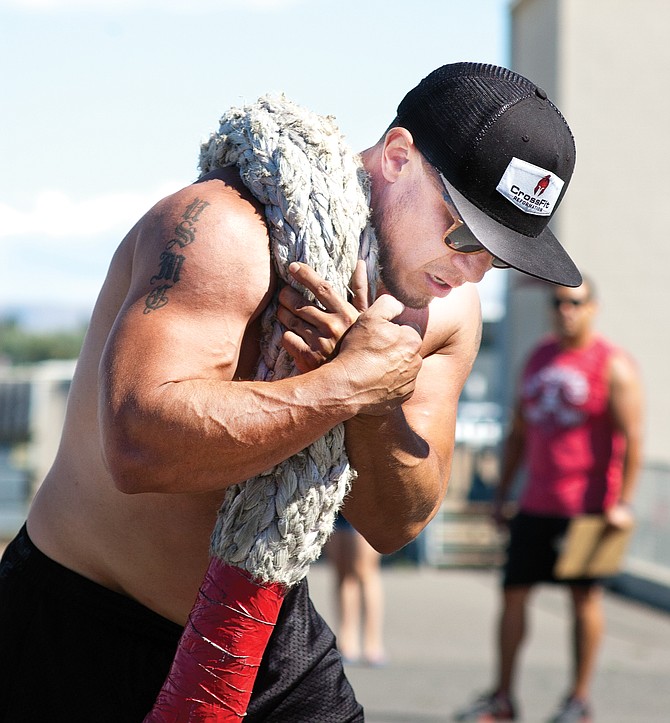 SUNNYSIDE — Who is the strongest person?
This past Saturday, some of the valley's strongest athletes came to compete for that title.
Crossfit Lower Valley hosted the inaugural Rally in the Valley to show what crossfit is all about.
Aside from the competition, vendors set up for competitors and spectators.
The event brought 42 athletes to compete in three intense workouts that wouldn't be fit for the "average Joe."
Male and female competitors were divided into two divisions; Rx and scaled.
Rx was the hardest division and scaled was for those newer to crossfit.
Competitors completed the same workouts.
The first event had them perform repetitions of burpee target touches and squat clean thrusters in eight minutes.
To be counted as a "rep," athletes had to sprawl to the ground then jump and touch the target.
For the clean thrusters, athletes brought the bar to their chest as they squatted and pressed the bar above their head.
In the second event, competitors were put through a workout that focused on short strength and power.
It consisted of lifting barbells of ascending weights from the ground to overhead.
That was followed by throwing a 20 pound medicine ball and hitting targets up to 13 feet in the air.
The last workout had athletes start by doing 50 pullups, then perform a 100 meter overhead carry with a sand bag.
Once that was done, they carried the bag at the chest for 200 meters and finished with a 400 meter run.
With the three workouts completed, only the Top 5 in each division advanced to the two-part finals.
In the first part athletes pulled a giant docking rope from a super tanker attached to a 150 pound sled across 50 feet.
They then swung and flipped kettlebells of up to 53 pounds in each hand 12 times. Athletes then dragged/carried the rope and kettlebells back and repeated the workout for seven minutes.
They were given three minutes to rest before the second part.
It had athletes push a 150 pound sled across 100 meters, then swing a kettlebell overhead 20 times in two minutes until they failed to do so in the given time.
Once all workouts were finished, organizers tallied the scores and announced the Top-3 placers in each division.
The competition was a success for organizers and competitors alike.
Organizer Andrew Baranowski was satisfied with the outcome of the inaugural event.
"It was a ton of work, but it really paid off seeing everyone come out and have a great time and competition," Baranowski said.
It was Freddie Roman's fourth competition since joining two years ago.
"I've enjoyed doing them and want to compete in them as long as possible," he said.

At the end the Rally in the Valley showed who really is the strongest of them all.