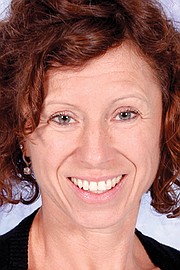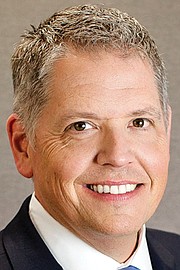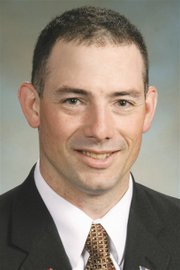 Three candidates are running for a 15th Legislative District seat.
Incumbent David Taylor will face challengers Dave Kearby and AJ Cooper, both of Selah, in a primary contest for the district's Pos. No. 2.
Ballots go out in the mail tomorrow.
Taylor, from Moxee, and Kearby are Republicans. Cooper is a Democrat.
Cooper, 45, taught geometry and trigonometry at the high school level. She later taught at a community and technical college as an adjunct professor.
Kearby, 45, is the Central District manager for Associated General Contractors. He is a former Naches Valley School Board member.
Taylor, 44, was appointed to legislative post in 2009 to replace Dan Newhouse after he was named director of the state's Department of Agriculture.
The Daily Sun News asked each of the three candidates the same three questions.
How would you address meeting the Supreme Court's mandate in the McCleary decision?
Cooper: More work still needs to be done, but one of the biggest issues is the shortage of state funding.
McCleary insures an equitable education for all no matter your learning or physical ability, race, gender or income.
An unequal educational system is created by using local levies to close the financial gap and some districts had to do without librarians to pay for textbooks while corporations are receiving large tax breaks with "no strings attached."
Boeing laid off more than 5,600 Washington employees and proceeded to open another final assembly plant in South Carolina.
Microsoft avoided paying business and occupation tax required on software reproduction by reporting sales in Reno, Nev.
Washington state needs to update its antiquated tax system and take a look at our financial priorities.
Kearby: While the legislature has begun to address this by adding over $3 billion to education, more reforms are needed.
However, this is the responsibility of elected representatives and not the Supreme Court.
Levy reforms need to be addressed, and I would be in favor of looking at a Levy Swap as one of the elements in meeting the state's responsibility.
We have the funds and just need to repurpose them to education. Within levy reform, levy equalization needs to also be discussed. For too long school districts have relied on levies to fund items that are basic education and, thus, the state's responsibility.
Communities with higher property values have gained more from their levies and have created an uneven playing field for schools in rural areas.
I will fight to make sure a child in Sunnyside has an equal opportunity at a quality education as a child in Seattle.
Taylor: Addressing the Supreme Court's mandate under the McCleary decision is likely to be one of the most difficult issues facing the Legislature in 2017.
While the desire to raise taxes will be strong among some in Olympia, I remain convinced a tax increase will not be necessary to meet the court's mandate.
Revenue is expected to increase by 8 to 10 percent or $3.4 to 3.8 billion for fiscal year 2017-19 through natural growth.
The legislature can fully fund education by prioritizing much of the natural growth in revenue toward basic education.
The legislature must also address levy reform without harming our local school districts or the taxpayers.
Finally, we need to consider reforming the way education dollars are appropriated to ensure taxpayer dollars are not reallocated away from basic education as can be done under law.
How would you balance the need for timber sales and public access of state lands with environmental concerns?
Cooper: In recent years public lands have been mismanaged. The damage from uncontrollable forest fires and deadly mudslides can be reduced by property forest management techniques.
The focus has been on maximizing extraction of timber, and we have all been witness to the damaging effects.
Over extraction is a very short-sighted solution to the need for revenue. It is in the best interest for Washington's environment and the timber companies to create a more sustainable system.
The preservation of Washington's natural beauty depends on our ability to see past the here and now.
If elected, I would work closely with the Washington State Commissioner of Public Lands and timber companies to create a balance between the need for revenue and providing recreational opportunities for the public.
Kearby: Unfortunately the scales have been tipped too far in favor of the Department of Ecology and the Department of Fish and Wildlife.
Burdensome regulations enacted by Ecology have adversely impacted the ability to manage and harvest timber and hinder public access to these lands.
Even on private lands, more regulations on how timber is harvested has placed hardship on available timber resources thereby driving up associated costs such as building costs.
Additionally, Fish and Wildlife continues to purchase more and more land once held privately.
Not only does this result in a dwindling tax revenue base, it also places a strain on available timber.
These state agencies and departments need to be constrained, not the other way around.
Taylor: Washington's forests are not being appropriately managed for multiple purposes as required under the law.
Over the past several years, forest management has been focused on environmental protection and not resource management, which has led to tens of thousands of acres of timber lost to devastating wildfires.
The Legislature must reassert its authority to oversee forest management in Washington state.
First, we should study the feasibility of transferring federal forest lands to the state as required under the enabling legislation which created Washington state.
Second, specific policy directives should be passed to require an economic impact analysis prior to implementing new or revised environmental protection, which reduces timber production.
Finally, the Legislature must ensure agencies are managing forest lands under the multiple use mandate to ensure public access is maintained in Washington's forests.
Implementing these solutions will improve overall timber harvest rates and help with funding basic education in Washington.
What steps would you pursue to strengthen security measures for Washington driver licenses?
Cooper: Your Washington state driver license will work for the next two years while the state works on meeting these requirements mandated by the Real ID Act.
Passports will not be mandatory. But, if you already have a passport, you will be able to use it at the airport under the Real ID Act.
Washington licenses already meet 21 of the 41 requirements and will meet more requirements in 2017 when Washington moves to a new ID and driver license issuance system.
Unlike other states, Washington was not issued an extension past the January 2018 deadline.
Enhanced IDs and licenses have been available since 2008.
Not only do they meet the 41 requirements mandated by the Real ID Act, but these IDs will also allow you to cross into Canada and Mexico.
Kearby: Driver licenses are the most common form of identification for domestic travel.
It is imperative to strengthen the validity of Washington licenses to be in compliance with the federal requirement.
With the real threat of increased global terrorism striking here at home, we must be able to develop a method for citizenship verification.
At the very least, we need to consider a two-license system, with a "Federally Approved License" meeting the security requirements for travel.
But this can only be accomplished if we can agree on the importance and credibility of verifying those applying for this documentation.
Washington remains one of only a handful of states not in compliance or without a waiver. A two-license system would help us get the needed federal approval.
Taylor: Washington state's driver license system remains out of compliance with federal law and correcting that must be a priority next legislative session.
There are several options which could be taken to update the licensing system; however, we must remain cognizant of the privacy concerns some of those options may raise.
For example, expanding facial recognition software and the storage of personally identifiable information could have many unintended consequences and potentially violate an individual's expectation of privacy.
A simple solution is to require proof of citizenship/legal status prior to the issuance of a driver's license.
Passage of such a law would bring Washington into compliance with federal law and help reduce overall state spending by ensuring those receiving state assistance are actually eligible to do so.