RELIGIOUS REFLECTIONS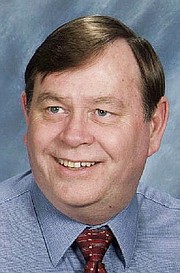 Terry Fox was an 18-year-old student when he was diagnosed with terminal cancer in March 1977.
But this ordinary young Canadian became a national hero when he embarked on what he called his "Marathon of Hope" — a cross-country run to raise funds for cancer research.
His goal was to persuade every Canadian to donate one dollar for cancer research.
Terry was fitted with an artificial leg and trained for 18 months. He started his run on April 12, 1980, by dipping his artificial limb into the Atlantic Ocean and heading west. At that time he had a million dollars in pledges in his pocket.
After traveling 3,000 miles over four months Terry collapsed near Thunder Bay and could not carry on.
The cancer had spread to his lungs and he died soon after. When his countrymen heard the news they flooded the hospital with more than $24 million in donations.
But the story does not end there. On July 28, 1980, a Cincinnati mailman, Donald Marrs, also dying of cancer, was so moved by Terry's spirit that he decided to finish the run for him.
Beginning near Chicago, directly below Thunder Bay, Donald headed out on what would be a three-month journey to the Golden Gate Bridge.
There was a slight rain falling as he crossed the bridge and when he finally dipped his hand into the Pacific Ocean a rainbow appeared in the sky.
Donald had completed Terry's Marathon of Hope and was able to raise another $800,000 for cancer research.
As the church celebrates the Ascension of Jesus, I am reminded that Jesus' mission, just like Terry's, was unfinished. Just like Donald, the apostles carried on with the mission.
Unlike Donald, who completed the mission, the apostles left the mission unfinished and for me, that is the lesson of the Ascension — that we are also invited to take on Jesus' mission of mercy and pass His love on to others.
— Kerry Turley is the deacon of Sunnyside St. Joseph Catholic Church.