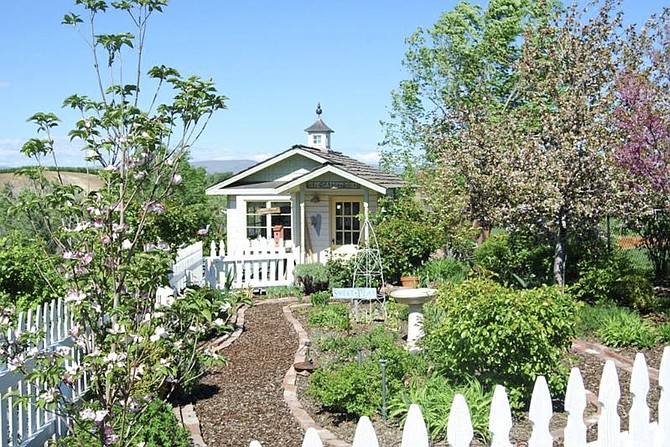 Where to see the gardens
The Cottage Garden – Linda and Keith Mathews
560 Brown Lane Selah.
Kid's Paradise – Dixie and Alan Withrow, 811 Game Ridge Road, Selah.
LaVonne's Garden – Lavonne and Ed Benner, 126 N Corriedale Road, Yakima.
An Artist's Hillside Garden – Delma Tayer 105 Hillcrest Drive, Selah.
Tuscan Villa – Julie Monson, 250 Tanglewood Lane, Selah.
All proceeds benefit the Yakima Area Arboretum.
For more information call 509-248-7337.
YAKIMA — The Arboretum is offering valley gardeners two chances to peep over the garden wall as part of its 2016 Garden Tour.
The tour will include some of the finest private gardens in the area.
Tours begin Saturday at 10 a.m., but visitors can only explore the gardens if they have a ticket. They are available at www.ahtrees.org.
Featured gardens include longtime Master Gardener LaVonne Benner's 1.3-acre garden with its extensive plant collection, four-season interest, and 200-plus conifers.
Artist Delma Tayer's hillside garden wowed the crowds back in 2004 when she was first on the Tour and will do so again in 2016.
Look for plenty of art, including Bonsai trees, and handmade clay pots throughout.
Dixie and Alan Withrow's garden is all about outdoor entertainment. A former llama farm, the Withrow garden features colorful pots, an in-ground pool, outdoor kitchen and plenty of kid favorites.
The Cottage Garden of Linda and Keith Mathews will charm garden lovers with its red, white and blue color scheme, vegetable garden and stunning view of Mt. Cleman, not to mention two adorable sheds.
Then there is the extraordinary Tuscan-style villa of Julie Monson, whose home and landscaping has been professionally crafted with authentic architectural details.
This 2.2-acre estate will wow visitors with its water features, overflowing pots, in-ground pool and breathtaking views.
On Saturday treat yourself to the after hours "Wine Down" event surrounded by the beauty of Julie Monson's Tuscan Villa from 4-5:30 p.m.
Enjoy wine, nibbling on light snacks and recapping your day of touring with other garden enthusiasts.