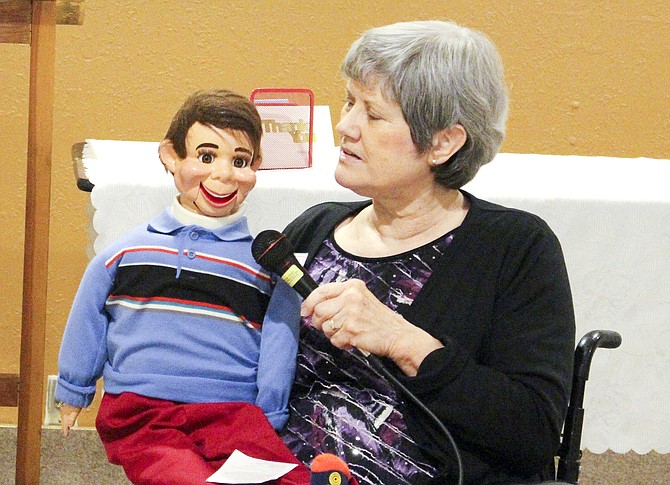 PROSSER — Recovering from a near fatal automobile accident in the late 1960s, Faye Pruitt found that her faith needed help to bring her back from despair.
As a young woman, who had only recently become engaged, she was facing a life confined to a wheelchair after having suffering a spinal cord injury in the late-night automobile crash.
She was the guest speaker at Tuesday's Lower Valley Christian Women's Connection meeting. Pruitt and her puppet, Willie, entertained the group during a program she called "Speak for Yourself."
Pruitt, who lives in Newberg, Ore., told how learning to speak for herself with the help of a puppet got her through the most difficult times.
"Willie also helps me to increase my trust in God," she said. "God has, through my work as a ventriloquist, given me a mission and helped me to believe in his purpose for me."
She had to first go through the darkest days of her life before she could reach out in faith.
The life-altering crash occurred in the days before seat belts and Jaws of Life, she said.
It was soon evident her life would never be as she and her future husband had imagined.
"I was trapped inside the vehicle in the crash. When I came to, I couldn't feel my legs and I could barely breathe," she said.
Her fiancé, Bill, had been thrown from the car in the crash, but only suffered a few broken bones.
Pruitt, then 20-years-old, and her fiancé had been traveling on a church-speaking tour in 1968, when the crash occurred.
"When Bill struggled to the car to be near me, we prayed… although I could barely breathe.
"He had somehow gotten to the road to seek help, but it was a long time before help came," she said.
"We sang Walking Along That Heavenly Road, a song, that helped us that night and in the days and years later to have hope when things were tough," Pruitt said.
While in the hospital she developed an interest in ventriloquism. But, it took several years before she developed her skills enough to include her pal Willie in children's ministry.
It was years before she and Bill married, "… even though he planned on sticking around," she said. They have been married 47 years and Willie has been a part of the family for 41 years.
"We borrowed money to buy him," Pruitt said.
"Bill had been driving the night of the accident and during the years, he also suffered guilt and found it hard to forgive himself. Our ministry and the help of biblical counseling helped to repair the tears in our relationship," she said.
Pruitt found her way through the disappointment of what she had hoped her future would be by working with children. Using humor in her talks helped her and eventually became a part of life's mission.
Bill, who is a music instructor, is also a songwriter and singer. The couple has also incorporated his music into their ministry.
Today, Pruitt, Bill and Willie travel the northwest, sharing a message of hope and humor to groups such as the Lower Valley Christian Women's Connection.
"I had to learn that God loves me. I had to believe as a child believes. And, because I didn't want to die, I learned to rely on Him," Pruitt said.
"I learned for myself that God's promises to love and save me were true, through hard times and all."
The next Lower Valley Christian Women's Connection will be at 11:15 a.m. July 12 in the Barn Restaurant, 490 Wine Country Road.
Call 509-786-1949 for reservations.